UX IA: Growing Revenue on Mobile

Evolving Craigslist's Mobile App
—
Information Architecture/5-Step UXDesign Process



Margaret Seymour
UX Design & Research Specialist
-NN/g UXCertified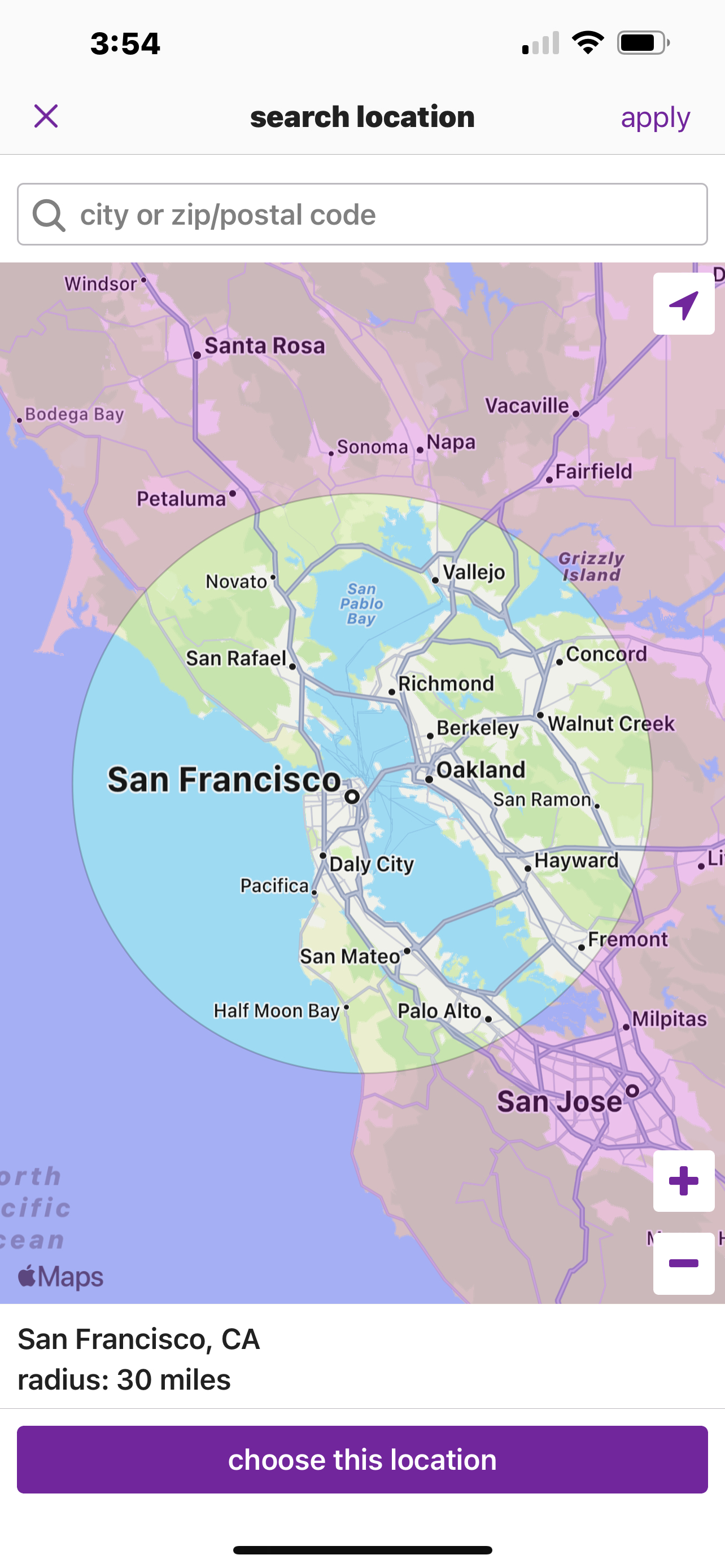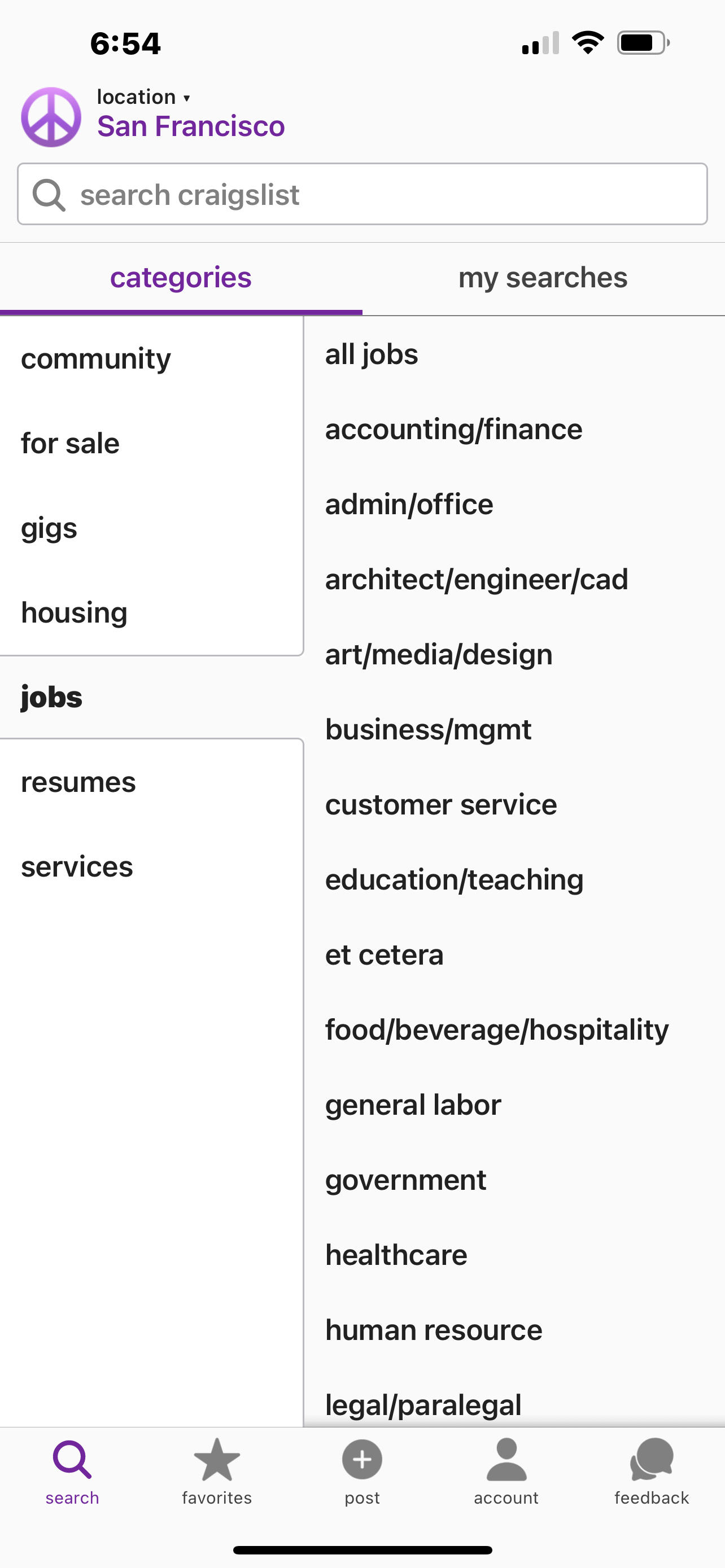 My UX Information Architecture team at UC Berkeley-x chose Craigslist Mobile for Case Study re-Design - an Information Architecture challenge with deep category dependencies (on a small form-factor).
But Mobile offers Craigslist the Business Value they need—more traffic and easier high-value transactions, on the devices Users' prefer and use most.
So we optimized the IA of CL's Mobile App with UX design by,
analyzing the current IA

better-understanding Users' mental models through research

testing alternate abstract IAs

honoring CL's values with intentional restraint

optimizing revenue-producing tasks:

move Users from 'Seeking' to 'Doing' (faster value 4 business & user)

surface 'actions' (every 'task' has an 'action')

'actions' signify categories, aid Users (ex: volunteer = non-profit)
Design Strategy: Make it easier (more intuitive) and faster (more task-direct) for Users to get Tasks (highest $CL revenue) done on Mobile.
Results: Saw very good find-ability improvement on Tree Test (across the board)
I created an 'Actions' toolbar for faster task-completion - with very good initial effect, needs testing and further wire framing
Recommend: More tests on 'Actions' Tool
UC Berkeley-x UX-IA Team: Margaret Seymour, Claudia Benitez, Noynica Ahuja
Tools: Figma, Miro, PowerMapper Cloud, Optimal Sort, Balsamiq, Google Sheets & Slides, Microsoft PowerPoint
Source: process templates - Rakesh Patwari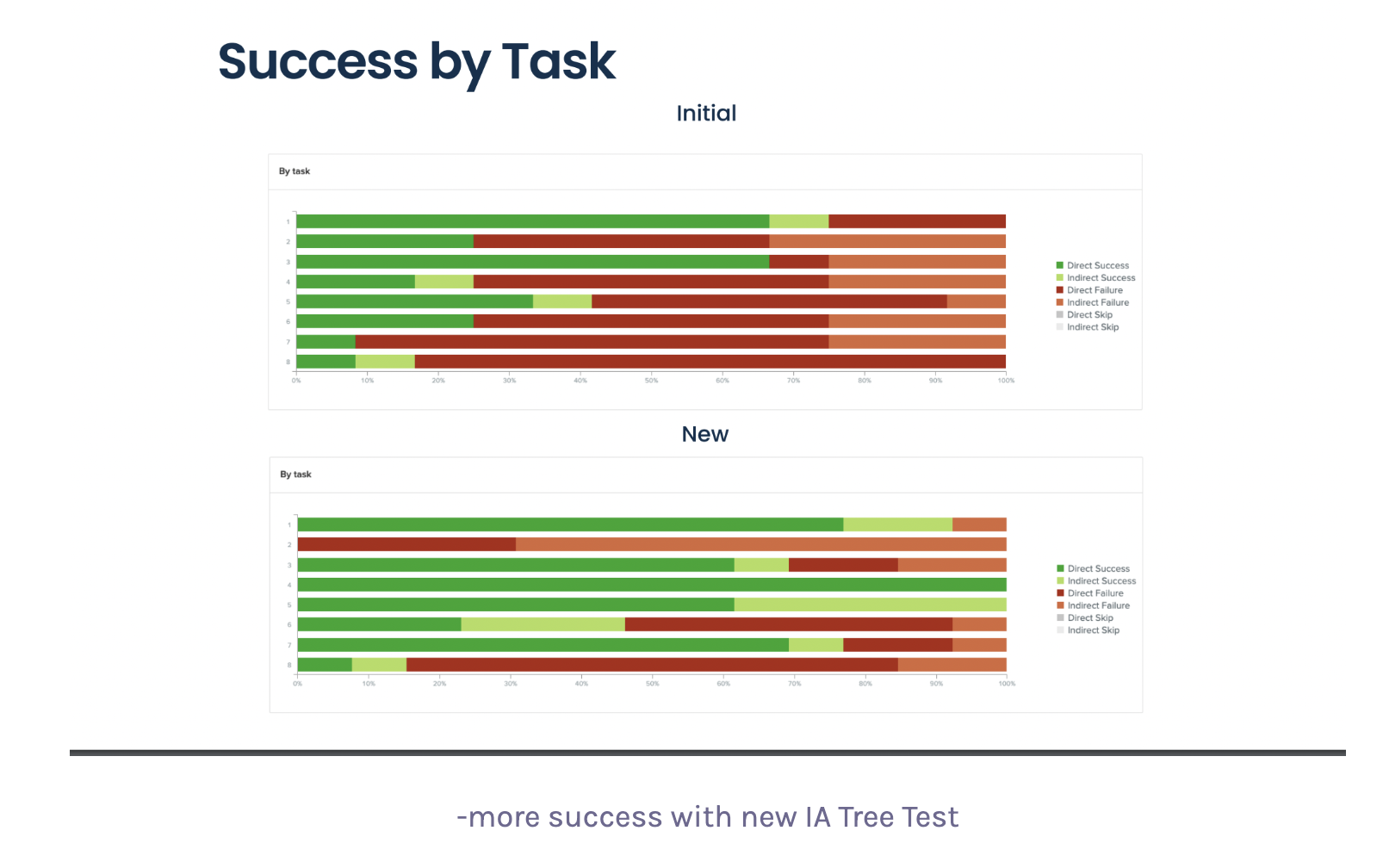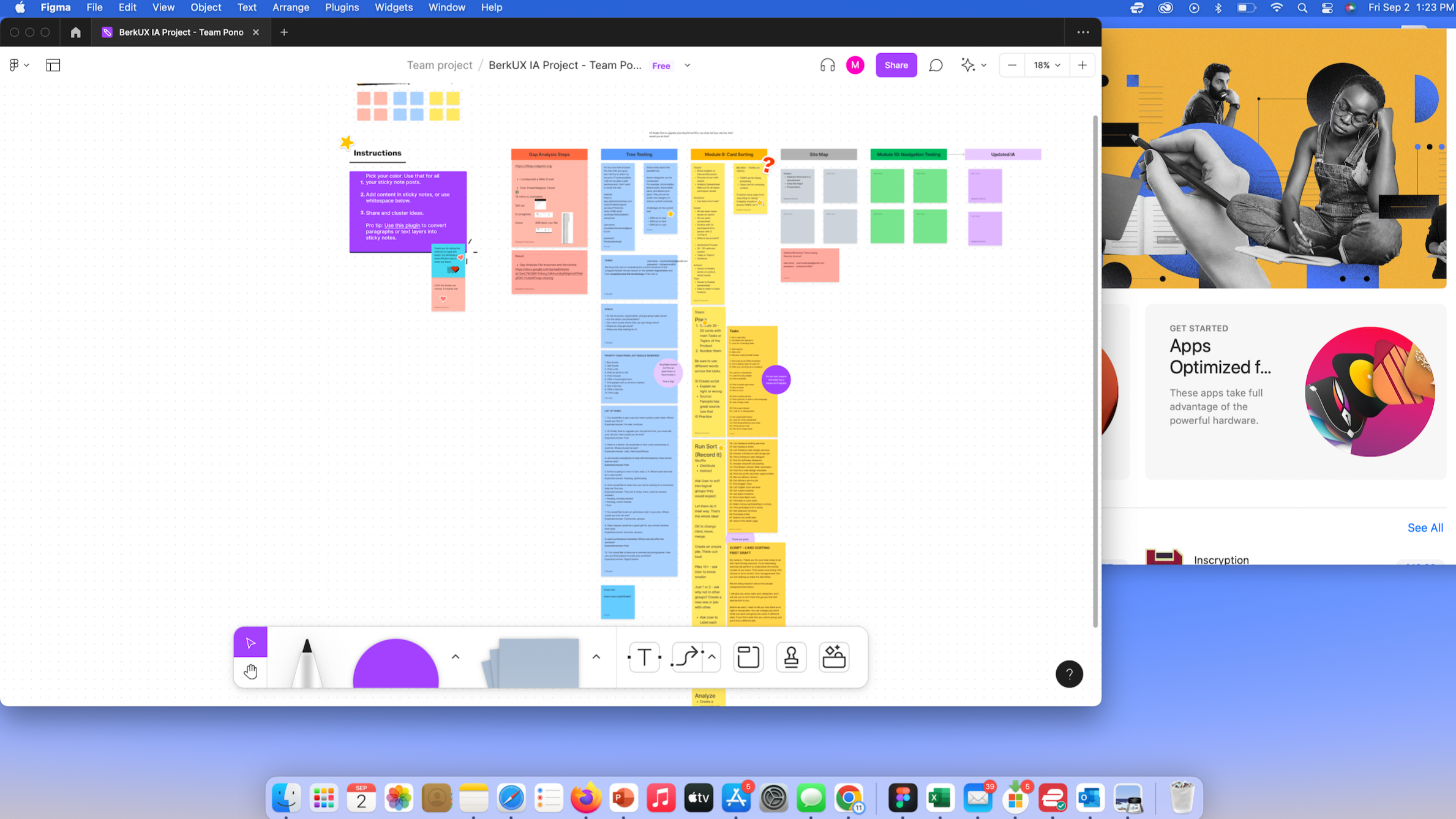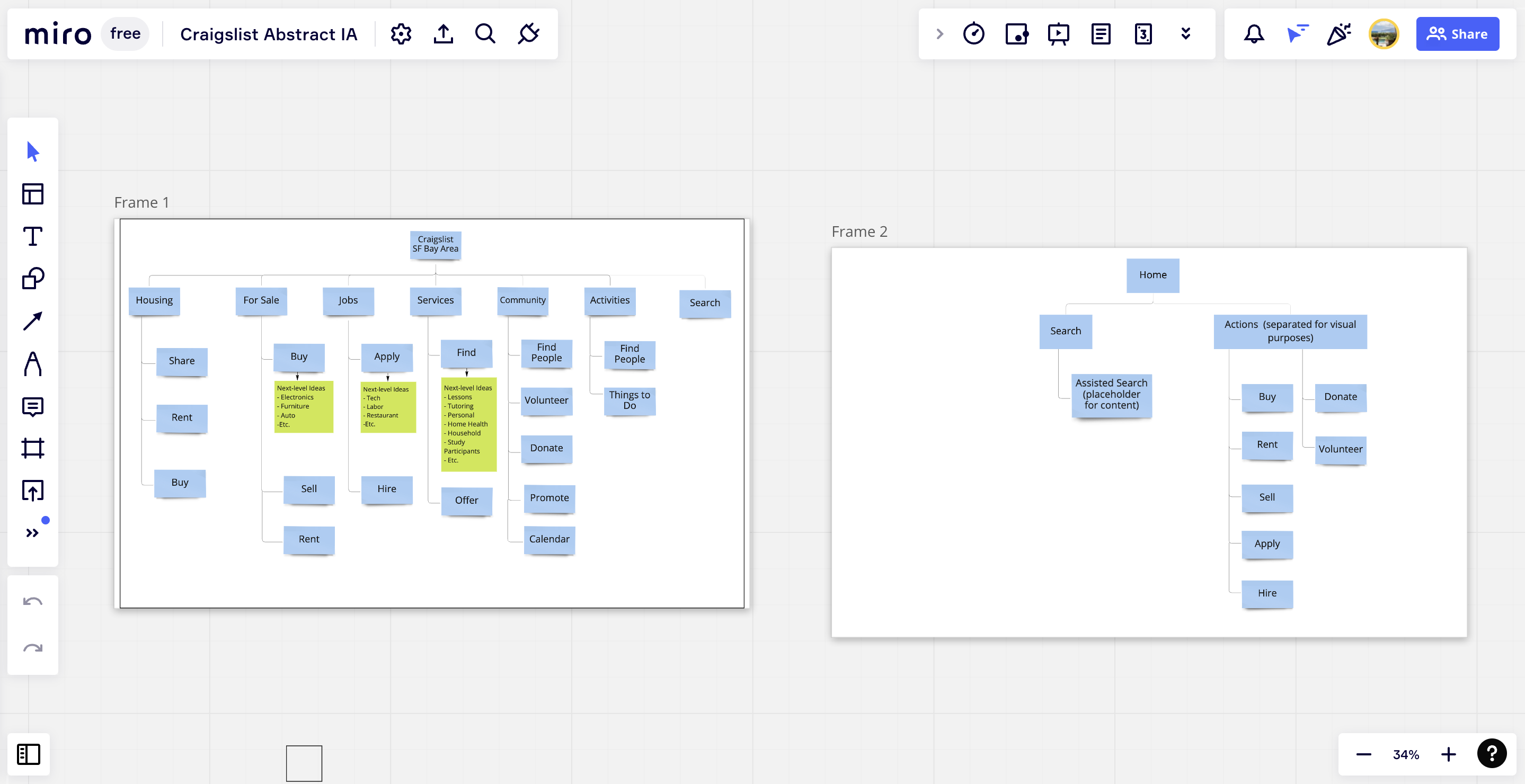 1) Conduct Initial Research
Identify Business Value & Key Tasks
Research informed the strategy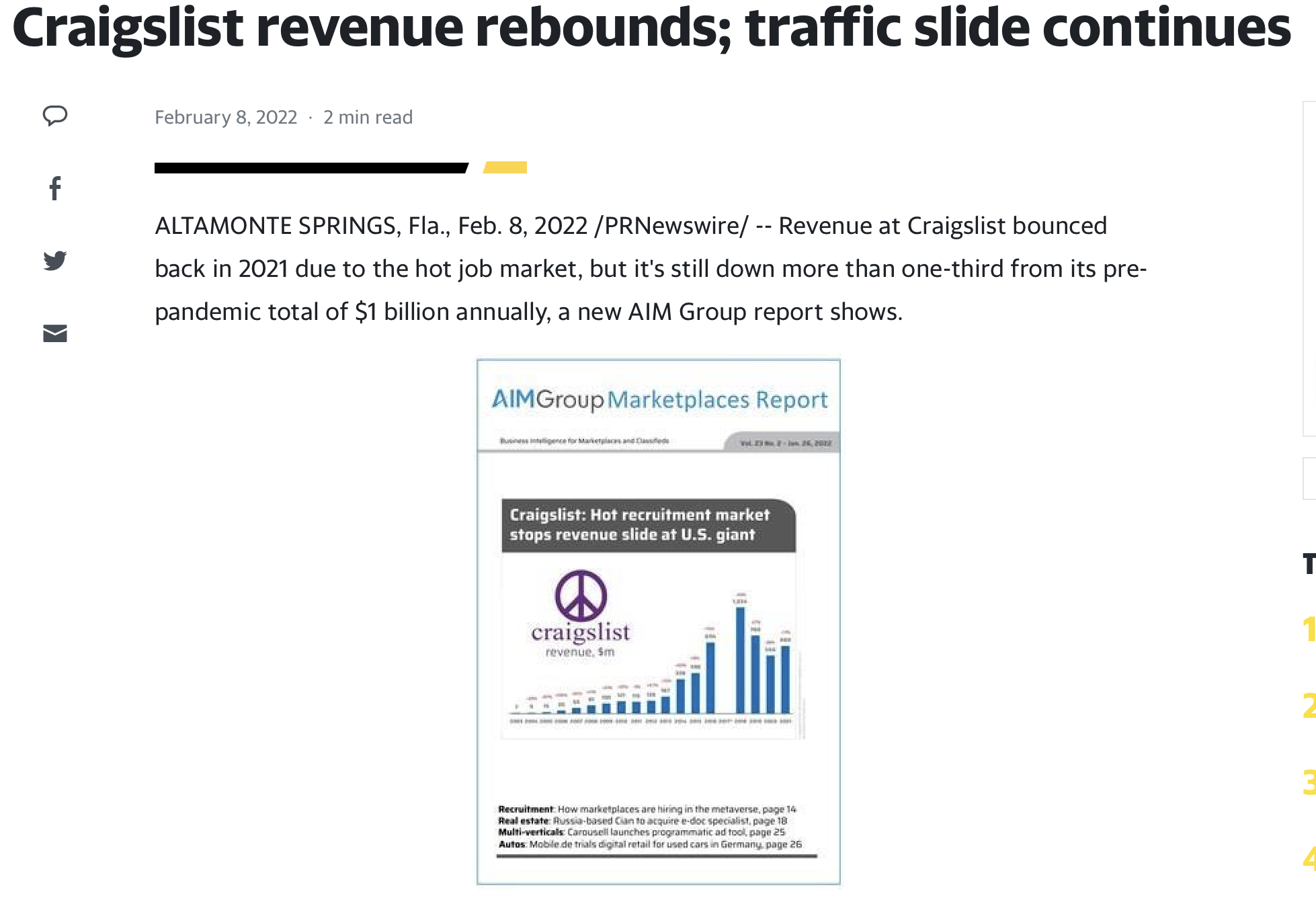 Situation
The growth of Social Selling on Facebook (and others) significantly increases competitive pressure for Craigslist. Total user traffic in '21 for CL did not reach pre-pandemic levels, although revenue per transaction is up.
Context
We chose to focus on Craigslist's Mobile App information architecture. This was a challenge with 100s of items on a small form factor. But Mobile can increase Business Value for Craigslist best, with new traffic and by enabling easier high-revenue transactions (on devices people use most).
Goal
Make high-revenue Tasks on Craigslist easier for Users to Find and Do
Strategy
Make it easier (more-intuitive) and faster (more-direct) for Users to get tasks (with high CL $revenue) done on Craigslist Mobile
Design Imperative
Honor and maintain the values-first simplicity of Craigslist, while updating for more profitable traffic and mobile usage
Values
To respect CL's values-1st mission make it simpler and easier for CL Users to transact with each other in ways that are:
Friendly

Social

Trusting

Communal: as 'Seekers' or 'Doers'
Revenue Model
Grow traffic by optimizing more profitable and new usage scenarios (Mobile)
Move Users from 'Seeking' to 'Doing' faster

Innovate mobile to 'get things done'

Do UX User Research for inherent needs / mental model

Should we enable new modes of contactless-trusted transactions? Ex.
Cost Structure
Optimize community self-regulation
Minimize overhead

Maximize community ownership
Growth Strategy
Increase traffic and organic growth
Trusted peer - to - peer

Community - NOT a global Social Media brand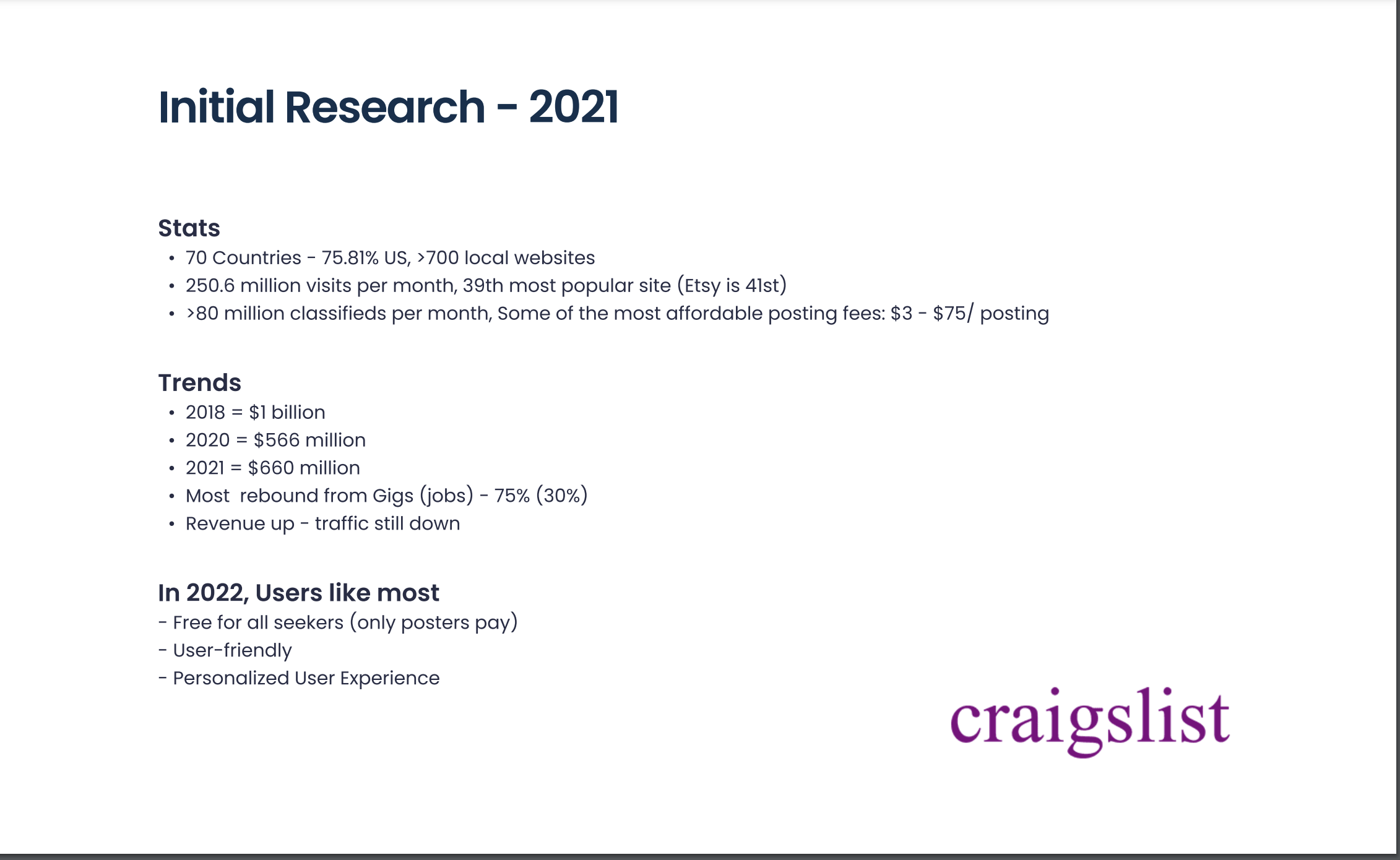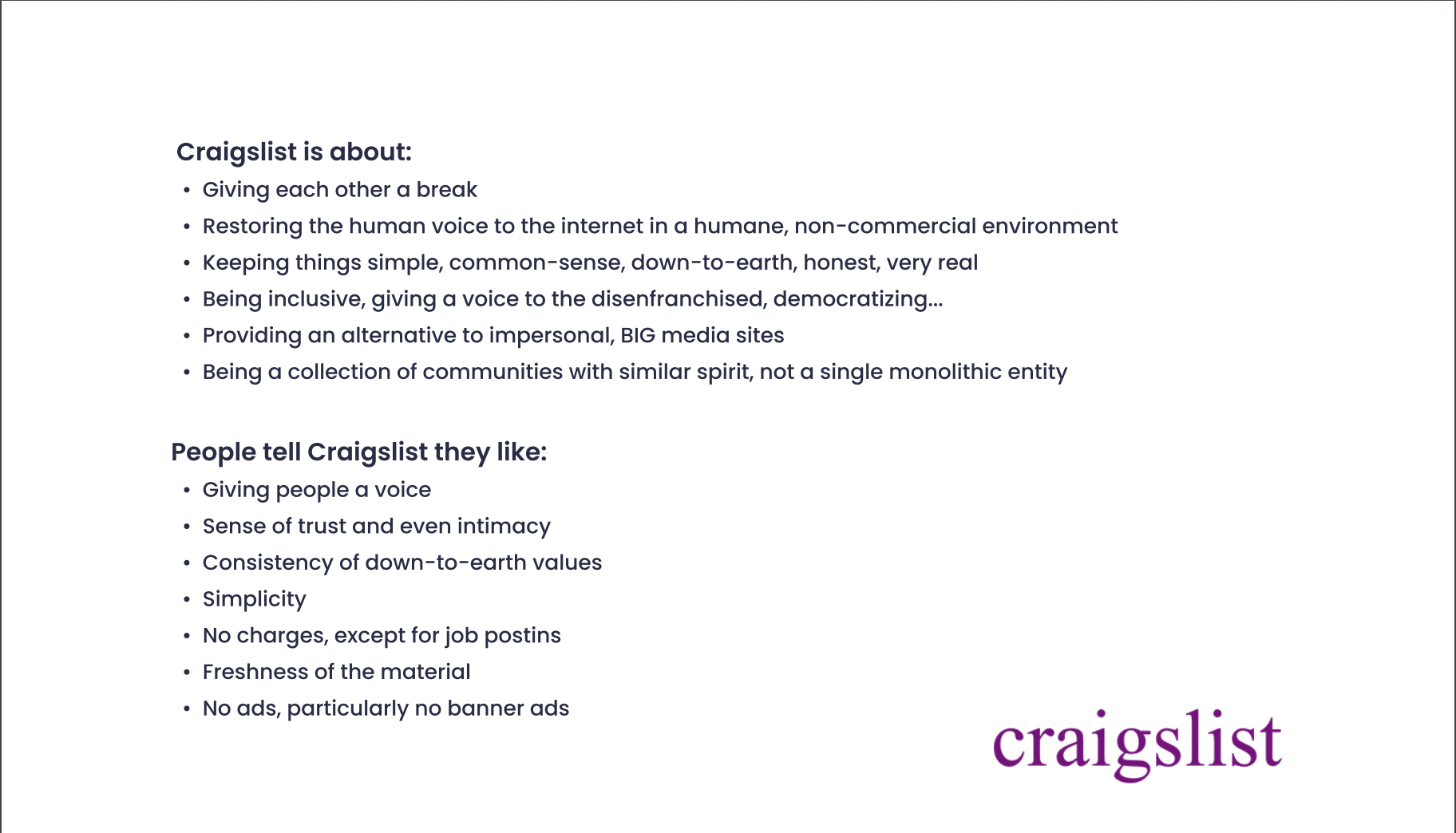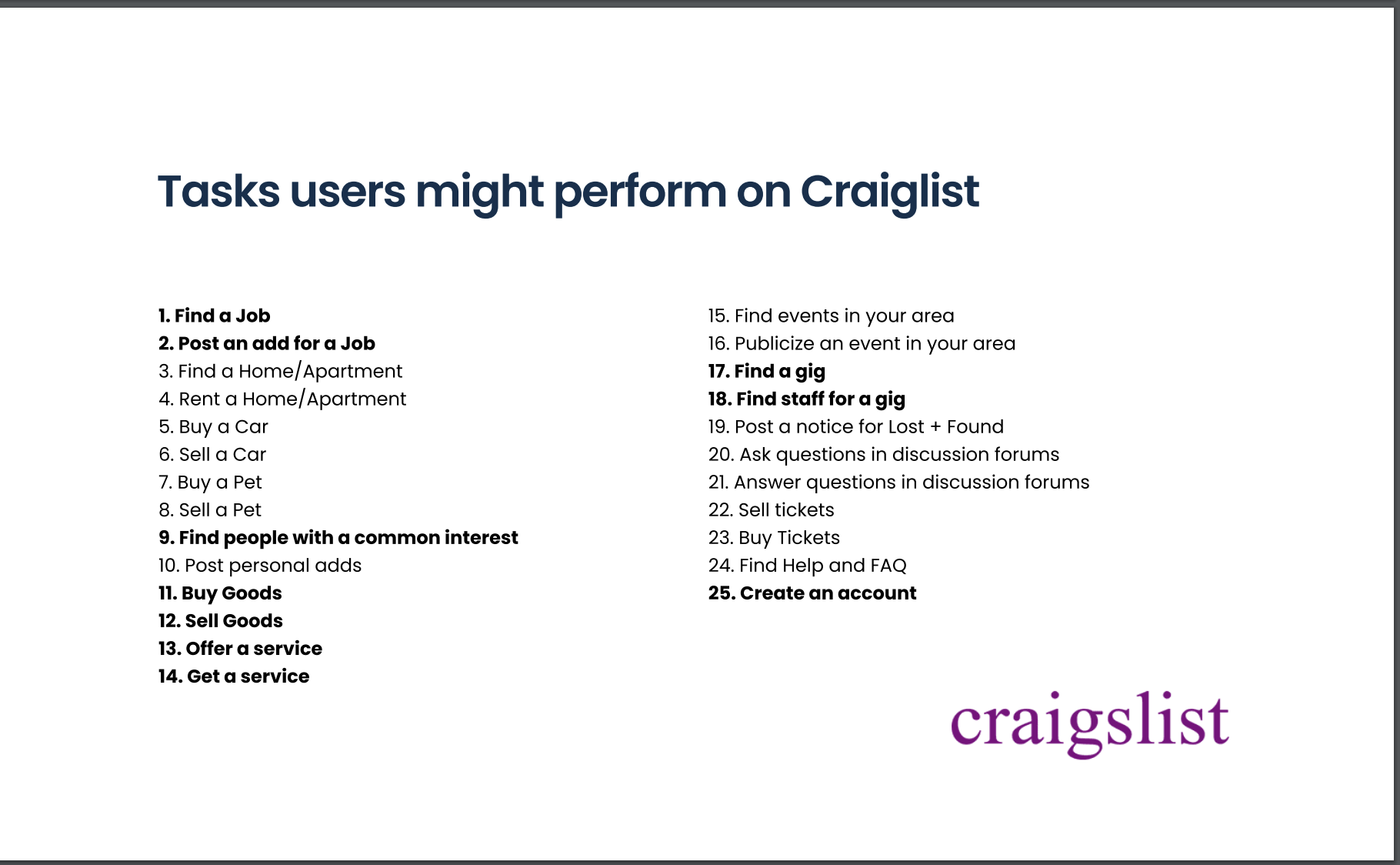 Then Created 2 Personas for Most Desired Tasks: Buying & Finding Work
Provided info for User context, goals, needs, pain points

Helped create Tasks in next step - Card Sorting
Questions:
Highest revenue per transaction for Craigslist?

Most in-demand by Users?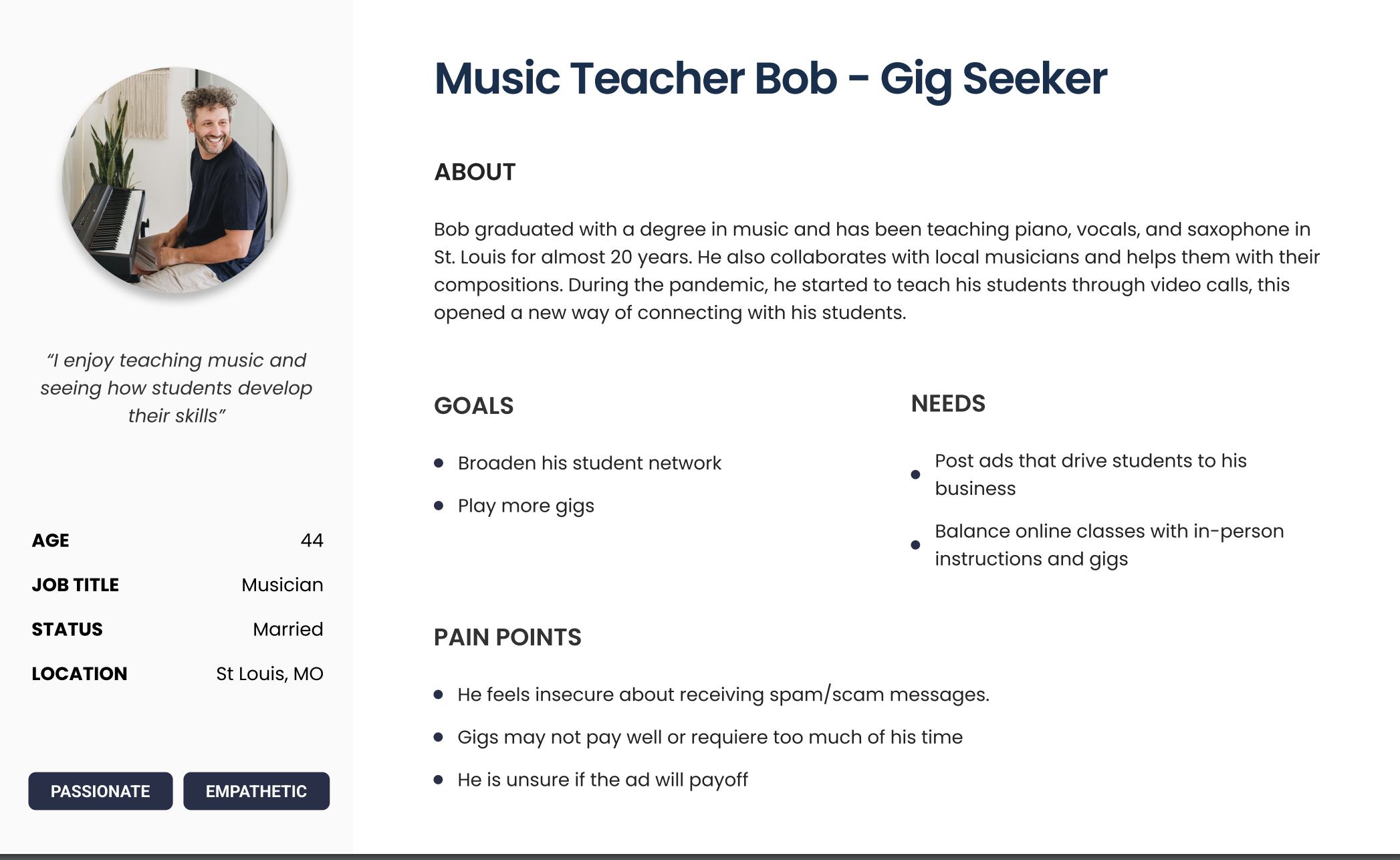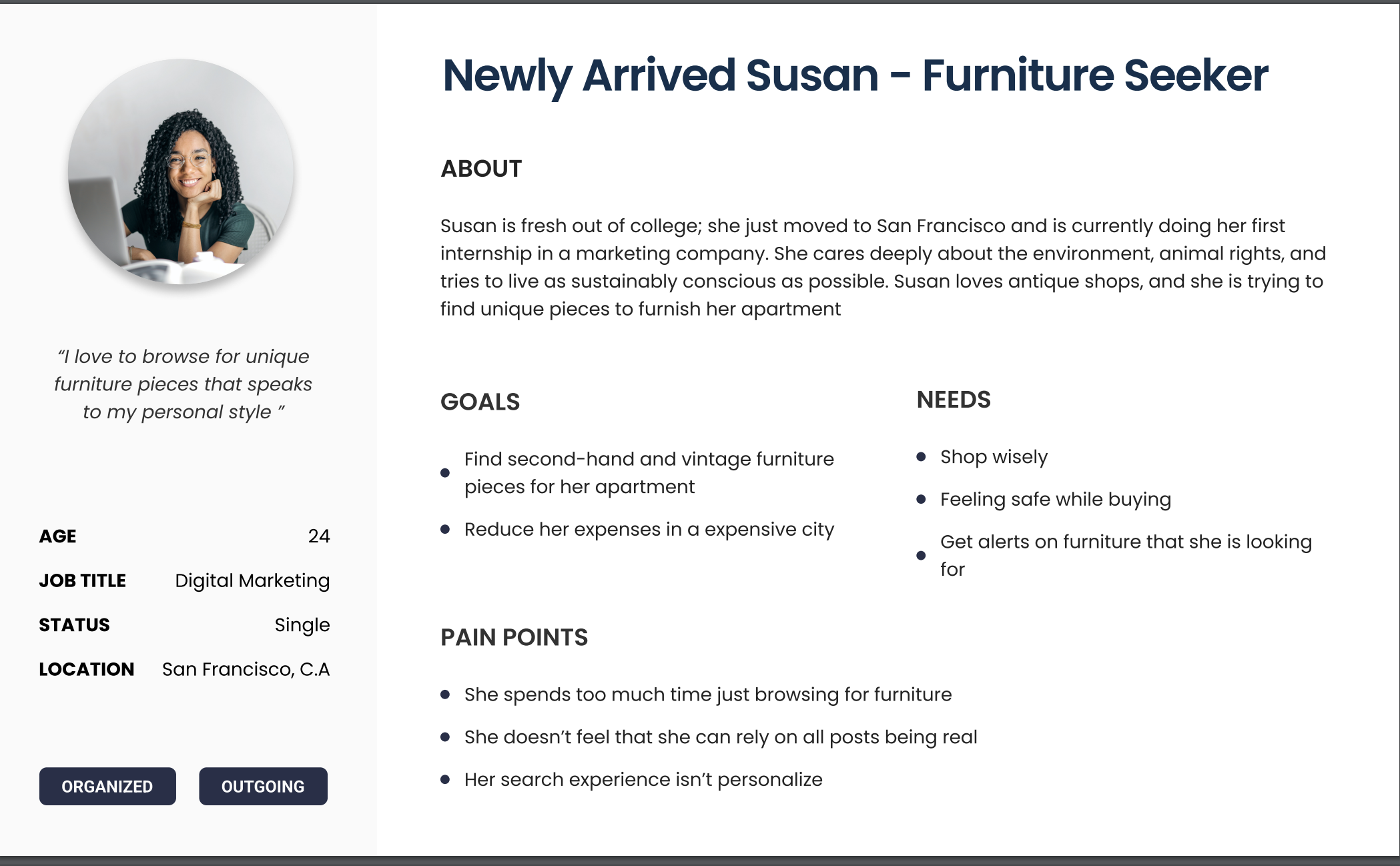 2) Gap Analysis and Tree Testing
Gap Analysis
Next, we performed gap analysis for the Tasks identified in research

Looked for key insights from our analysis

Missed opportunities?

Important tasks that do not have matching pages?

Included screenshots of the gap analysis spreadsheet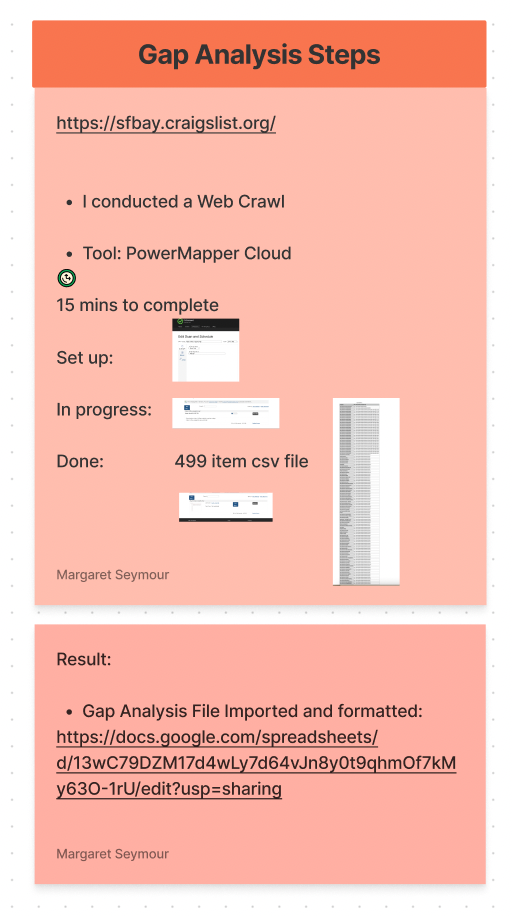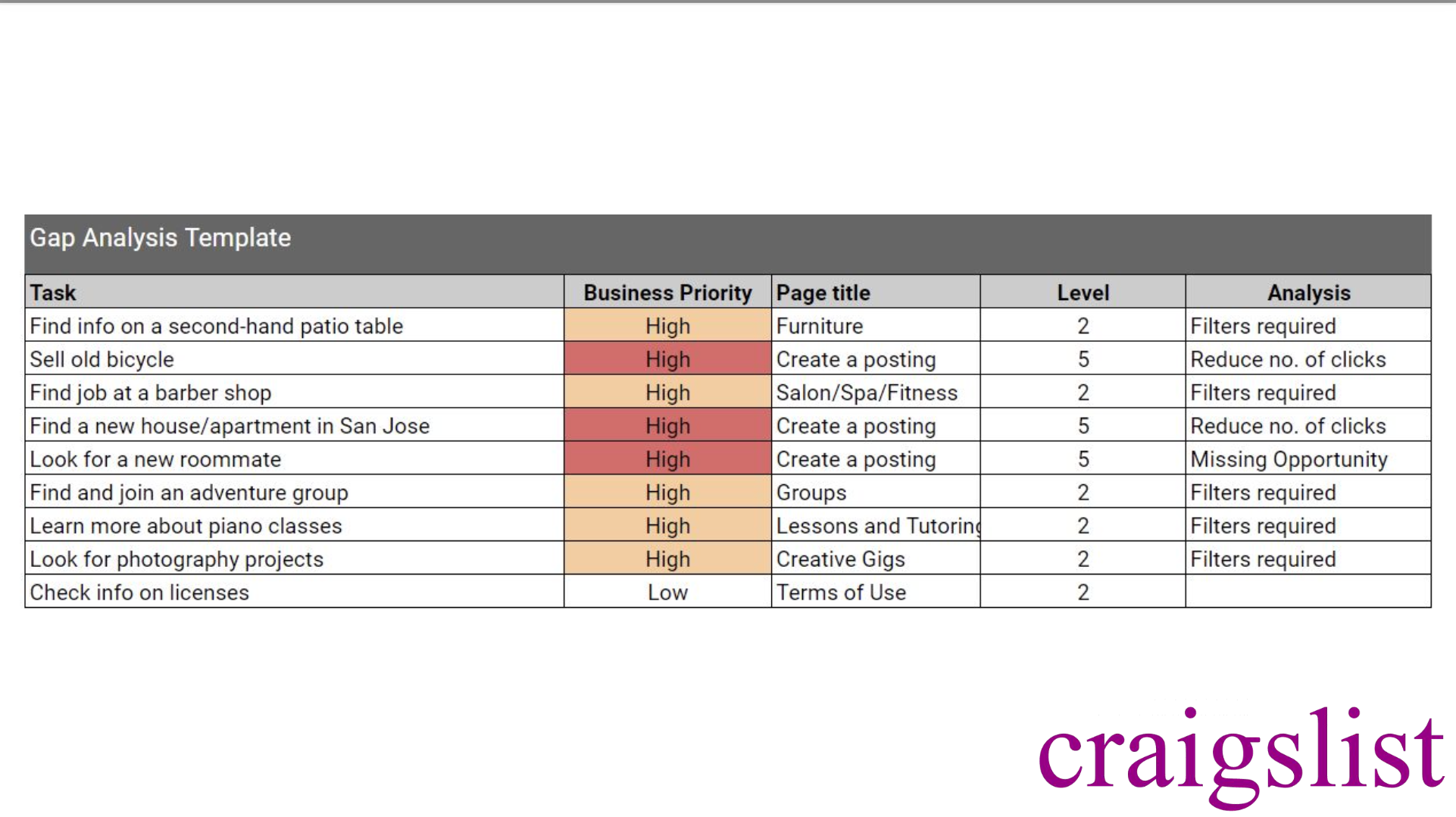 Tree Test
We conducted online Tree Tests with 18 Users, using Optimal Workshop

Used top 10 tasks we identified in research

Analyzed and presented results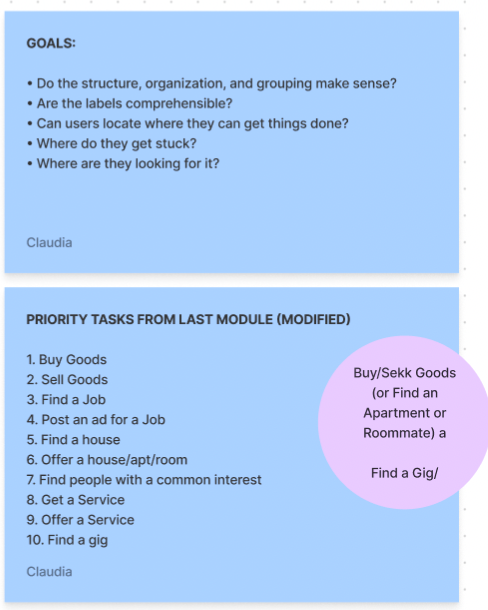 Tree Test Results for Top 10 Tasks
-Optimal Workshop-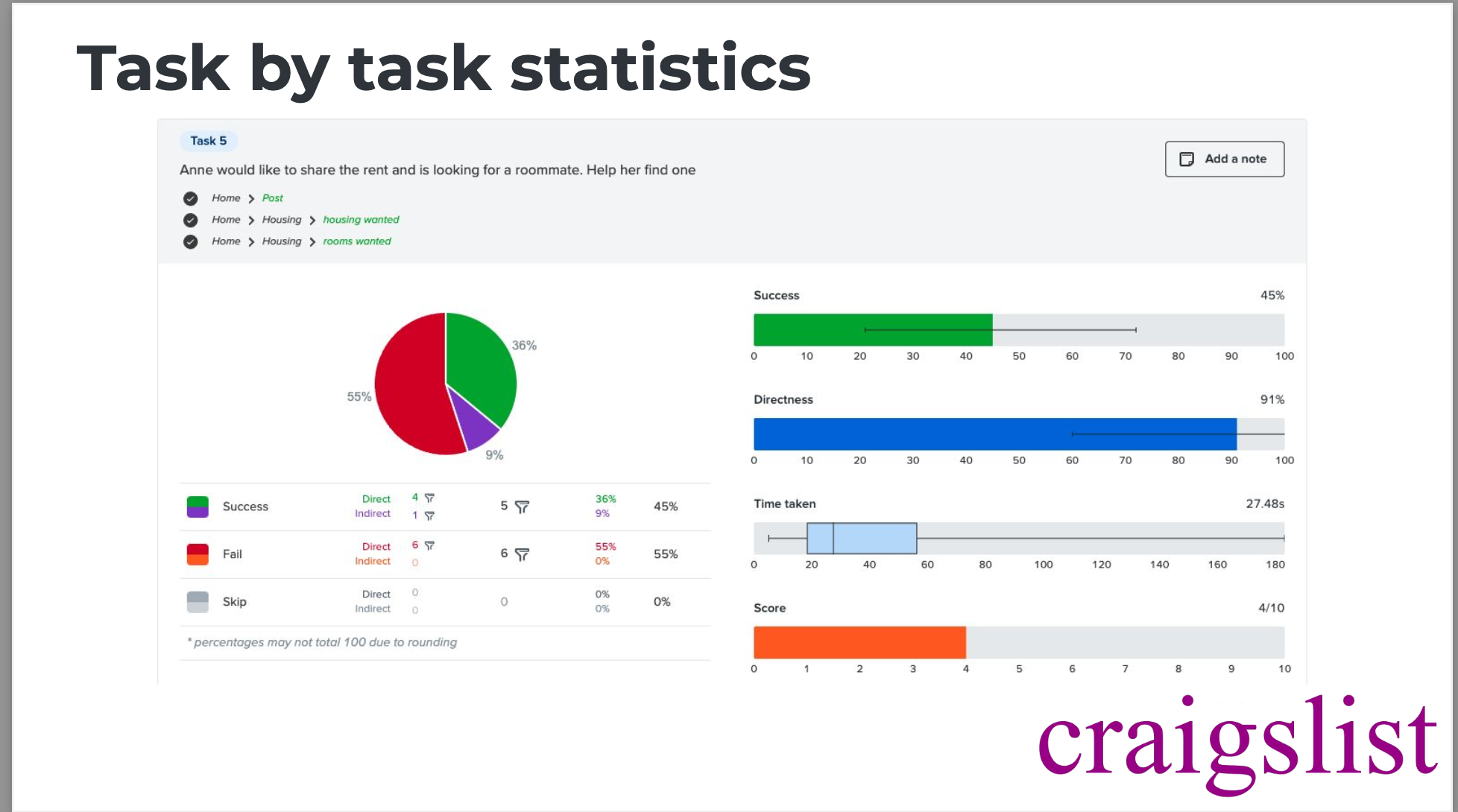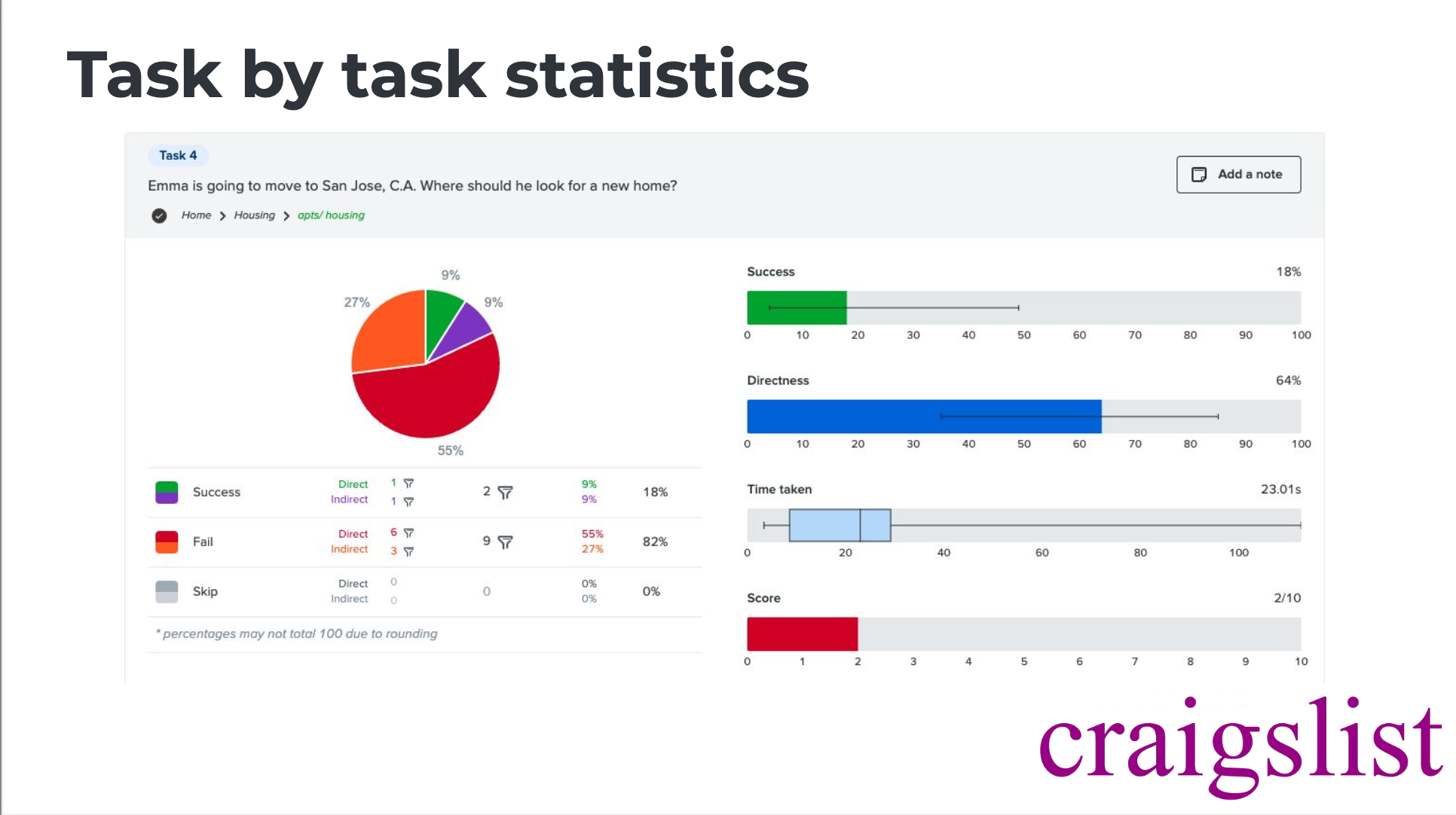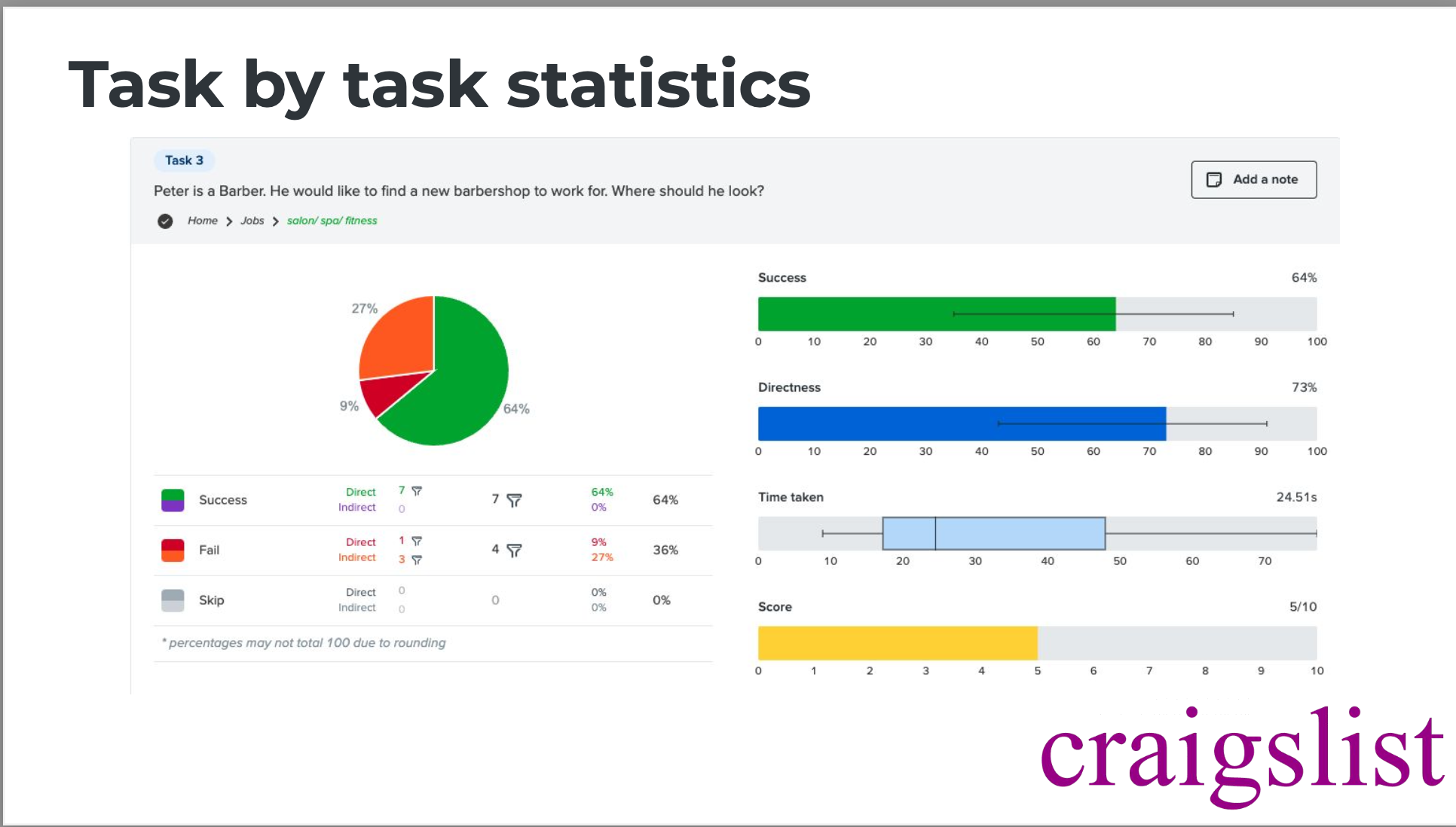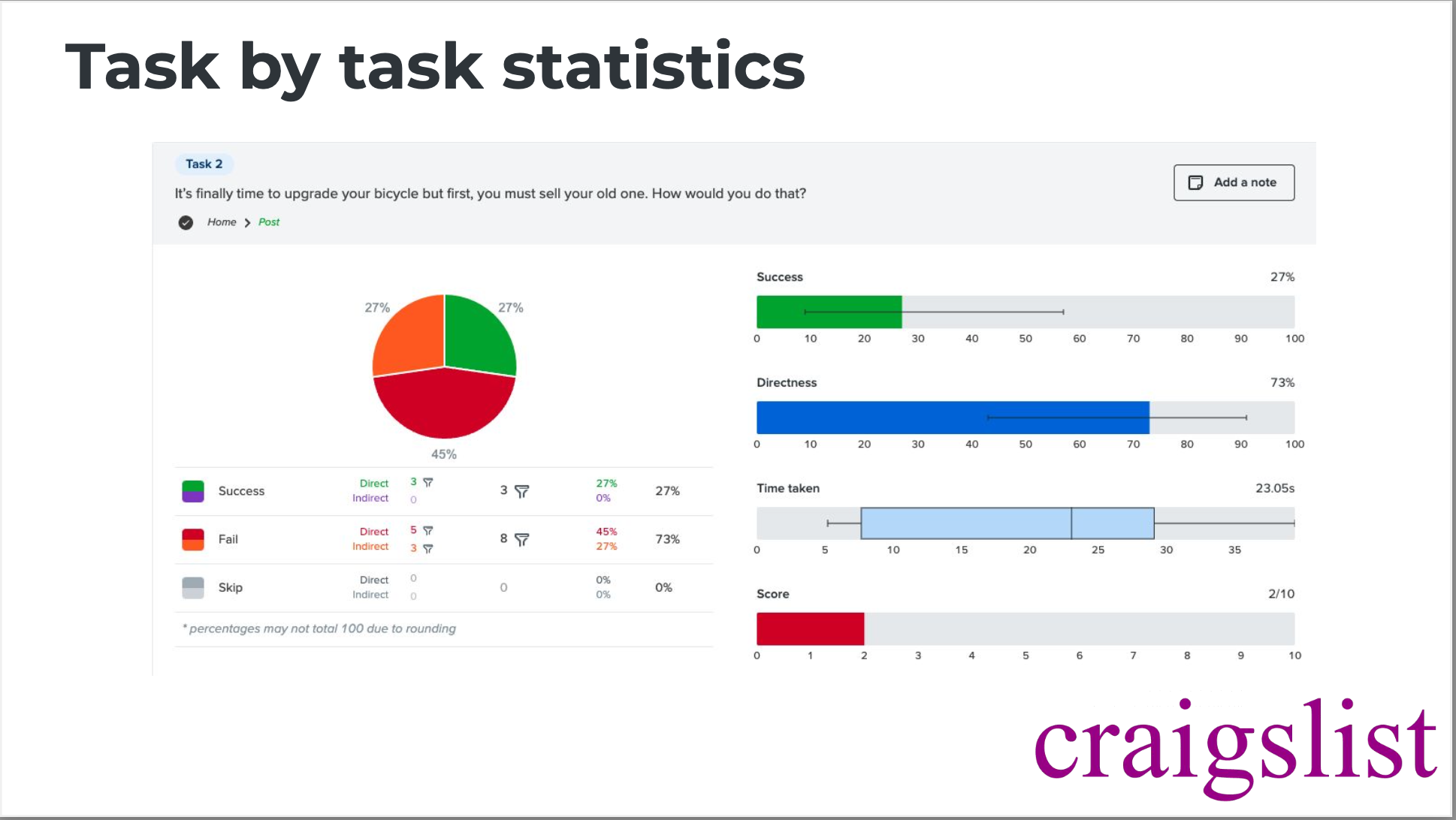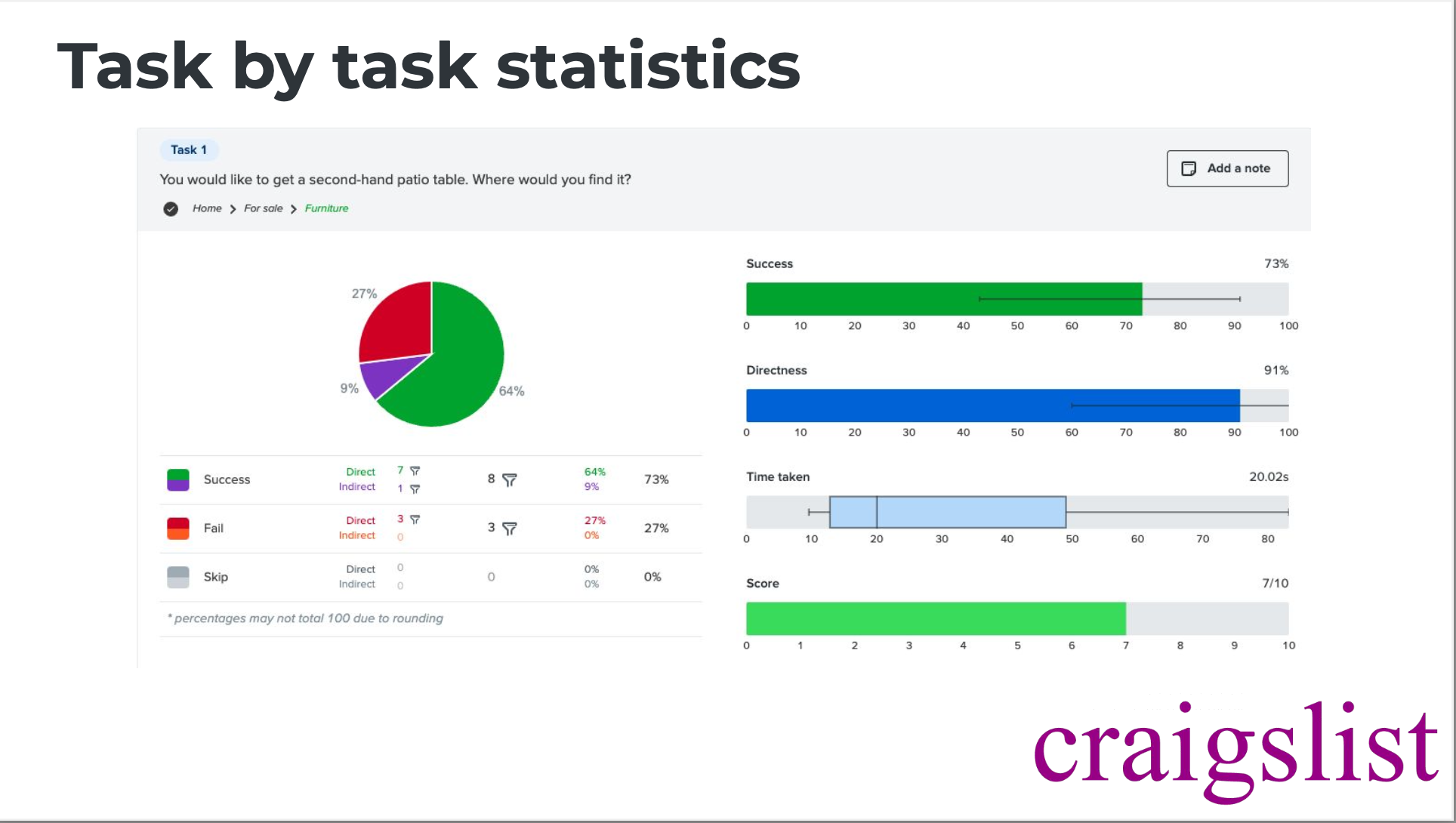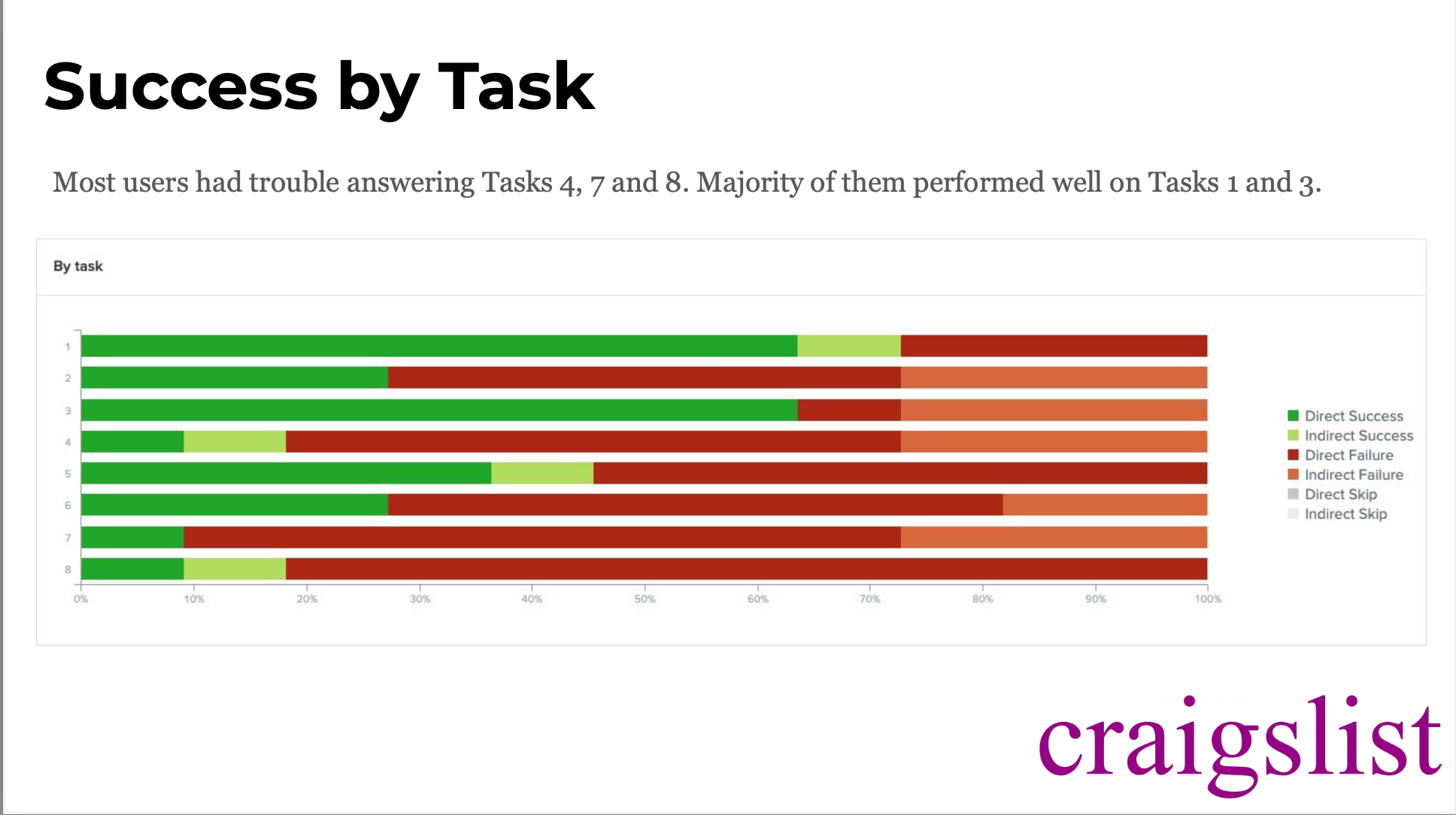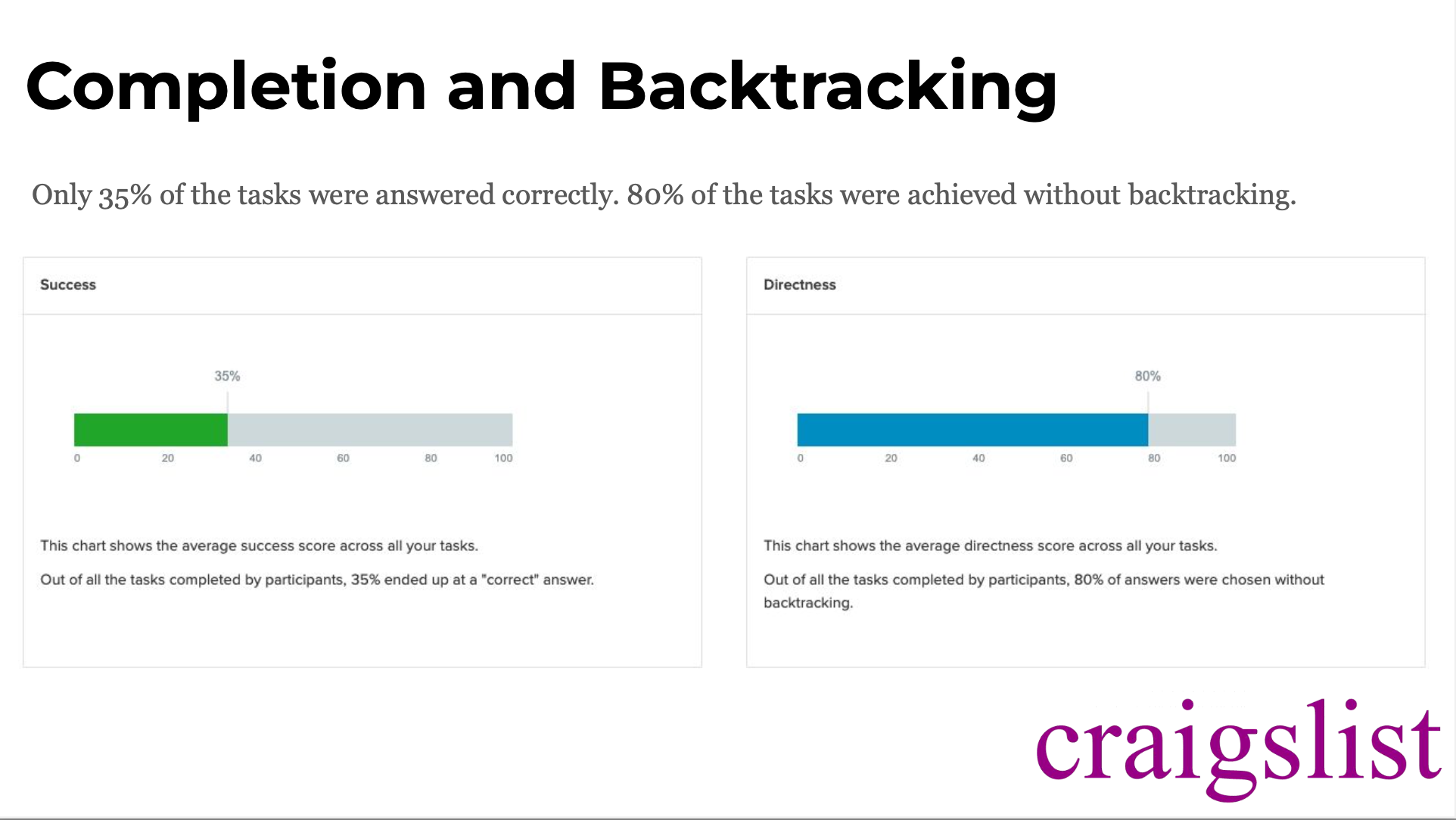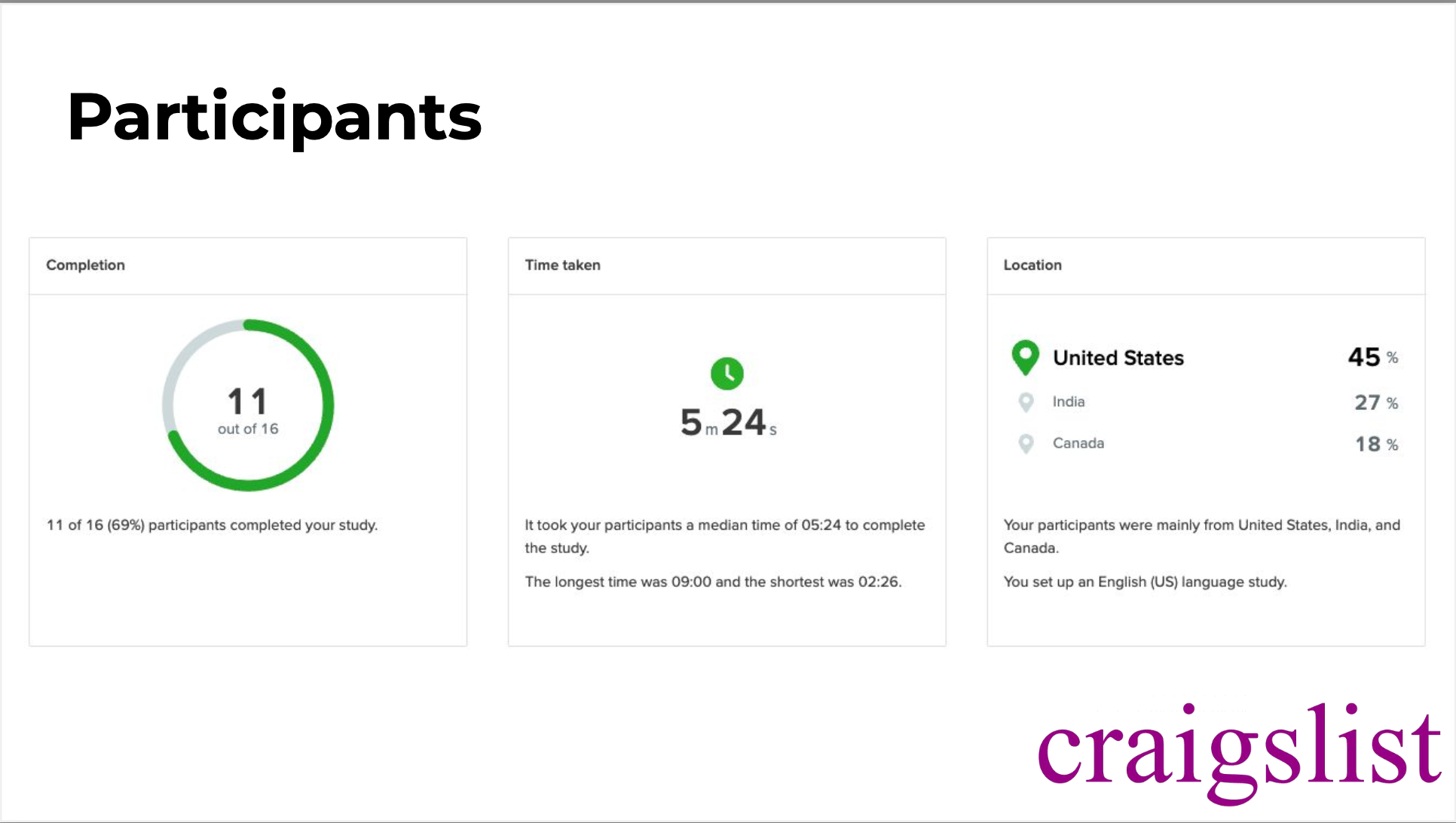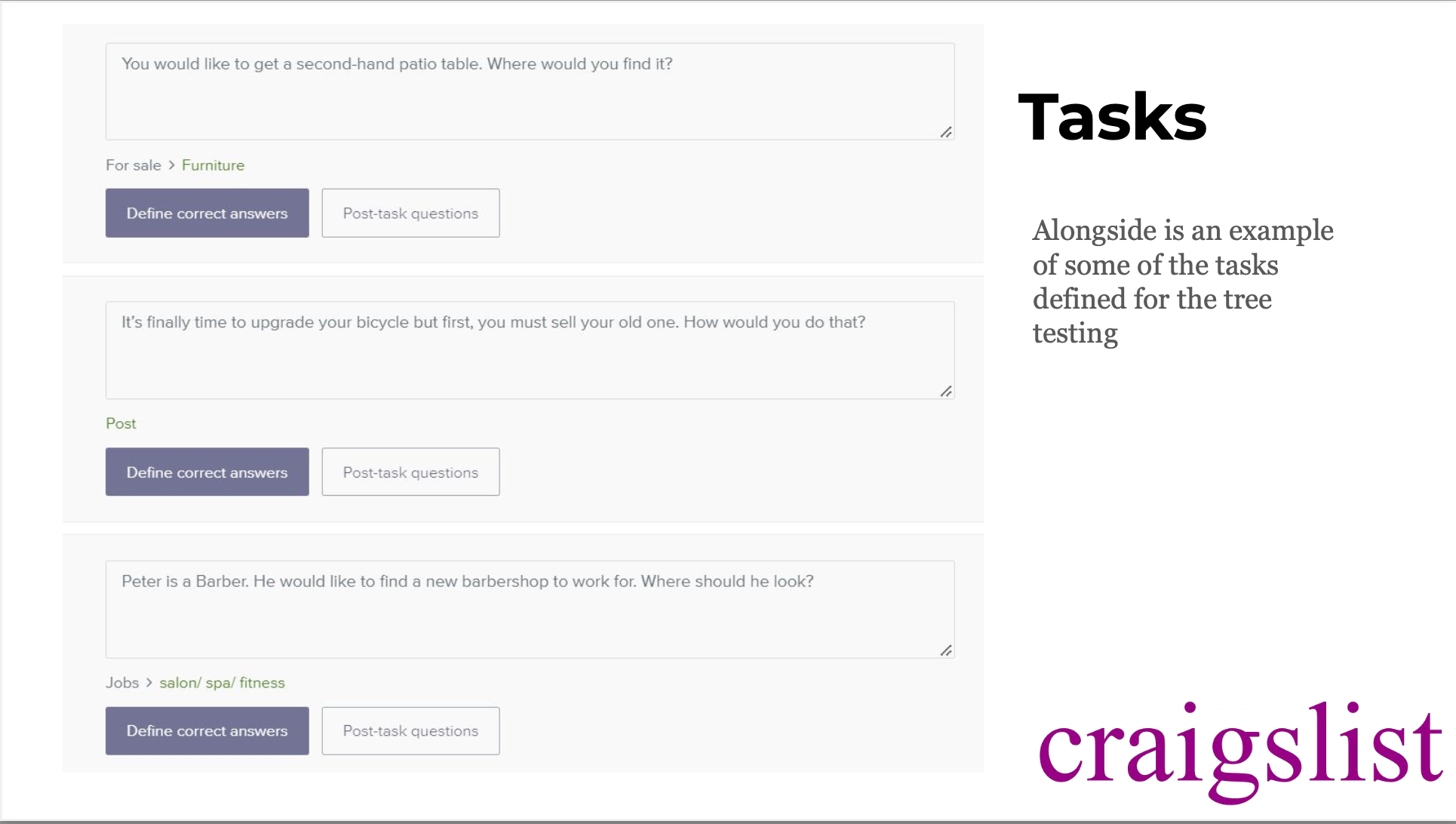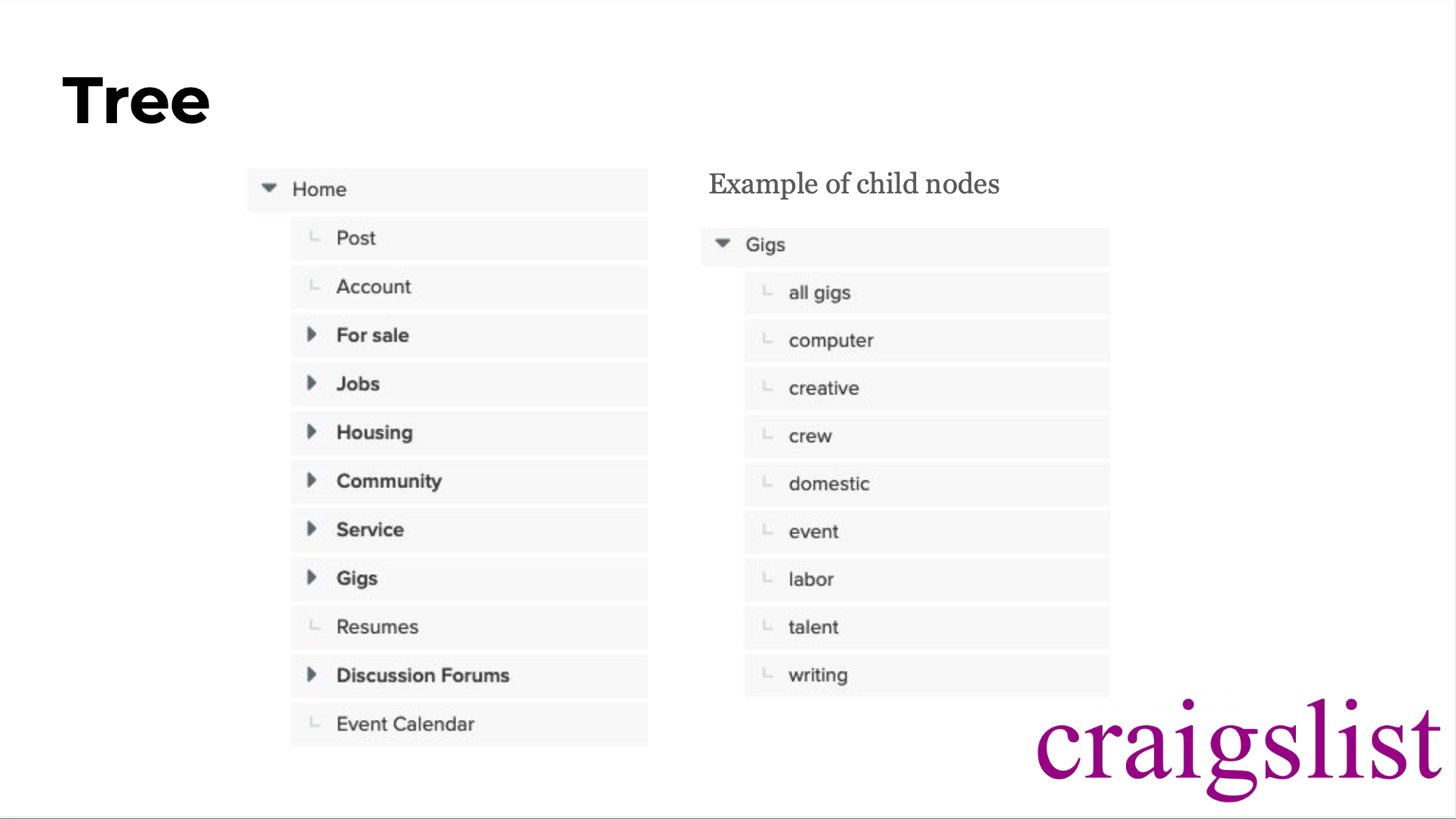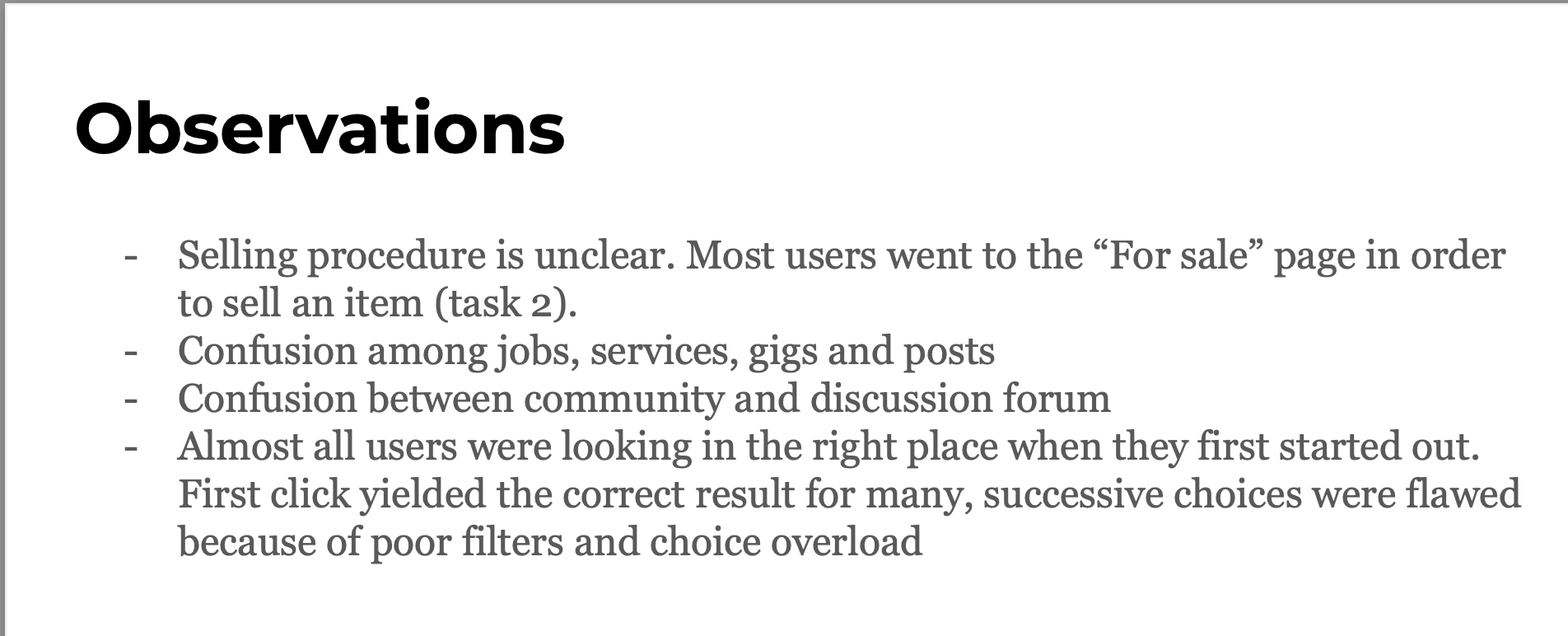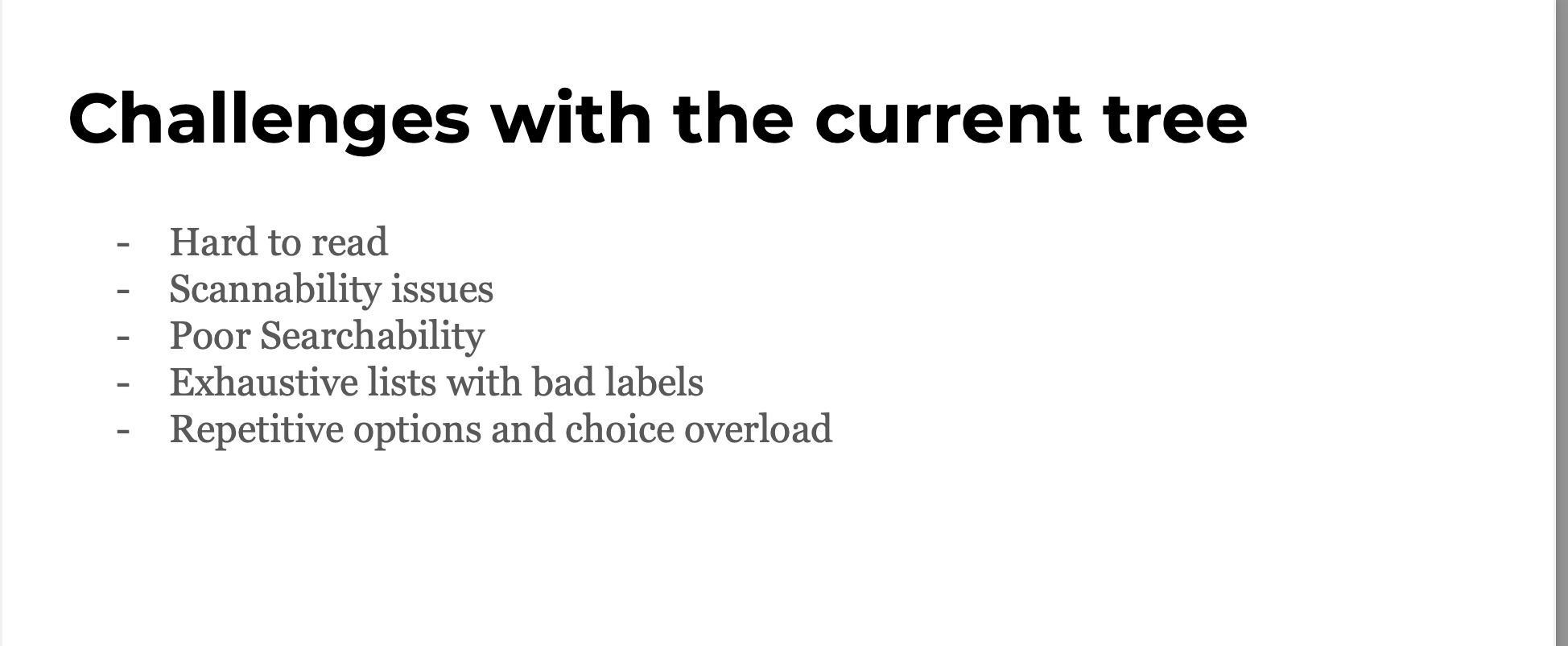 3) Synthesize - From Analysis to Sitemap
Steps
Planned and performed card sorting, in person and online

Analyzed the results of card sorting

Identified the relationship between card sorting and mental models in an Abstract IA

Created a 1st site map
Planned and performed 18 Card Sorts online and in-person



Created script, finalized tasks, input to Optimal Worship, recruited participants, sent-out

Evaluated 100s of results,
Normalized across 3 different native-language speakers (real-world in The Bay) for 'optimum' label results
-Craigslist has LOTS of CATEGORIES
Confirmed Prior Observations
User mental model of 'Gigs' is confused

Overwhelmingly chose 'Jobs' or 'Services' or 'Volunteer'

Starting with 'Nouns' made sense to Every User

Selling procedure unclear - but Category is not

AND Users went to 'For Sale' (VERB?) to sell an item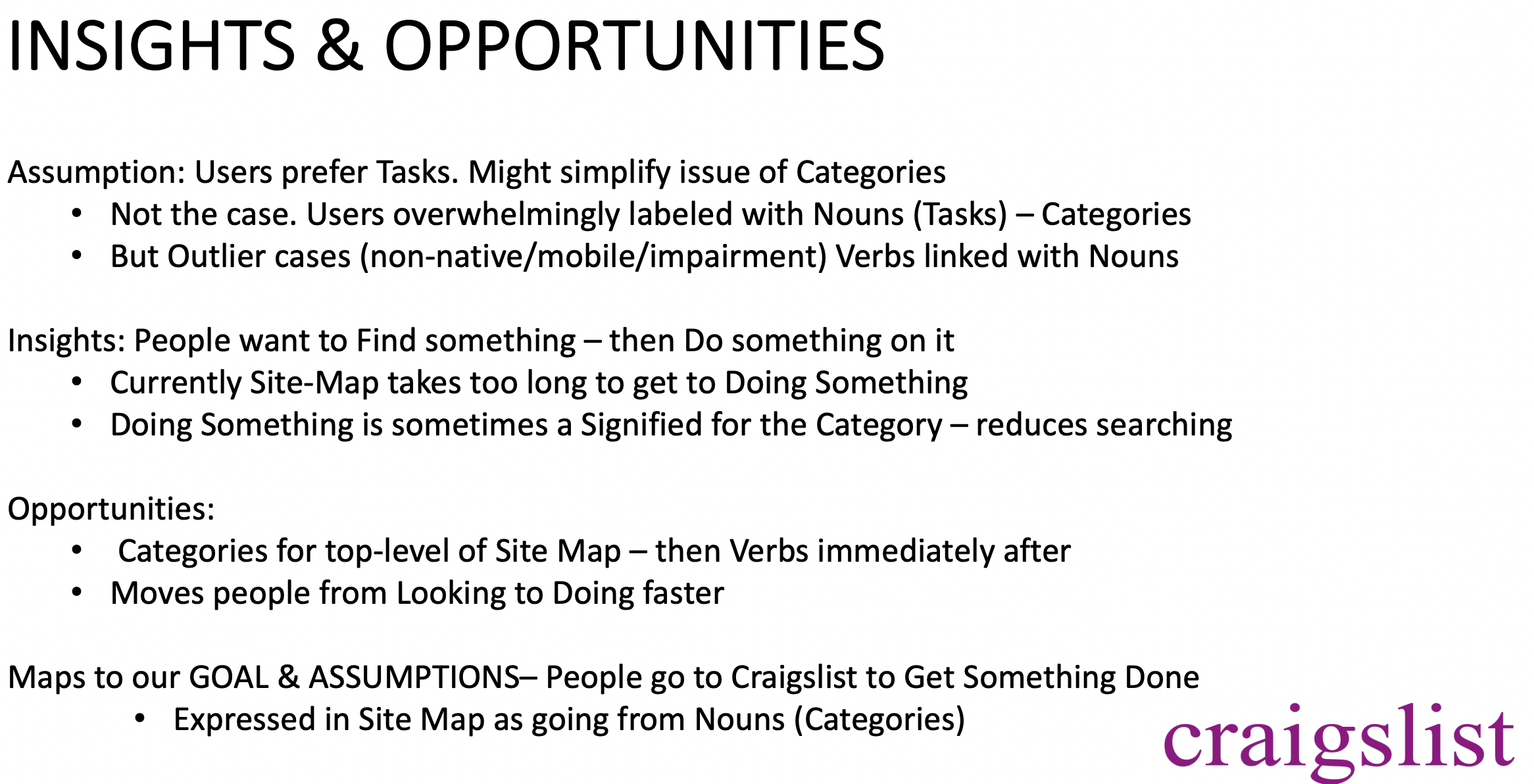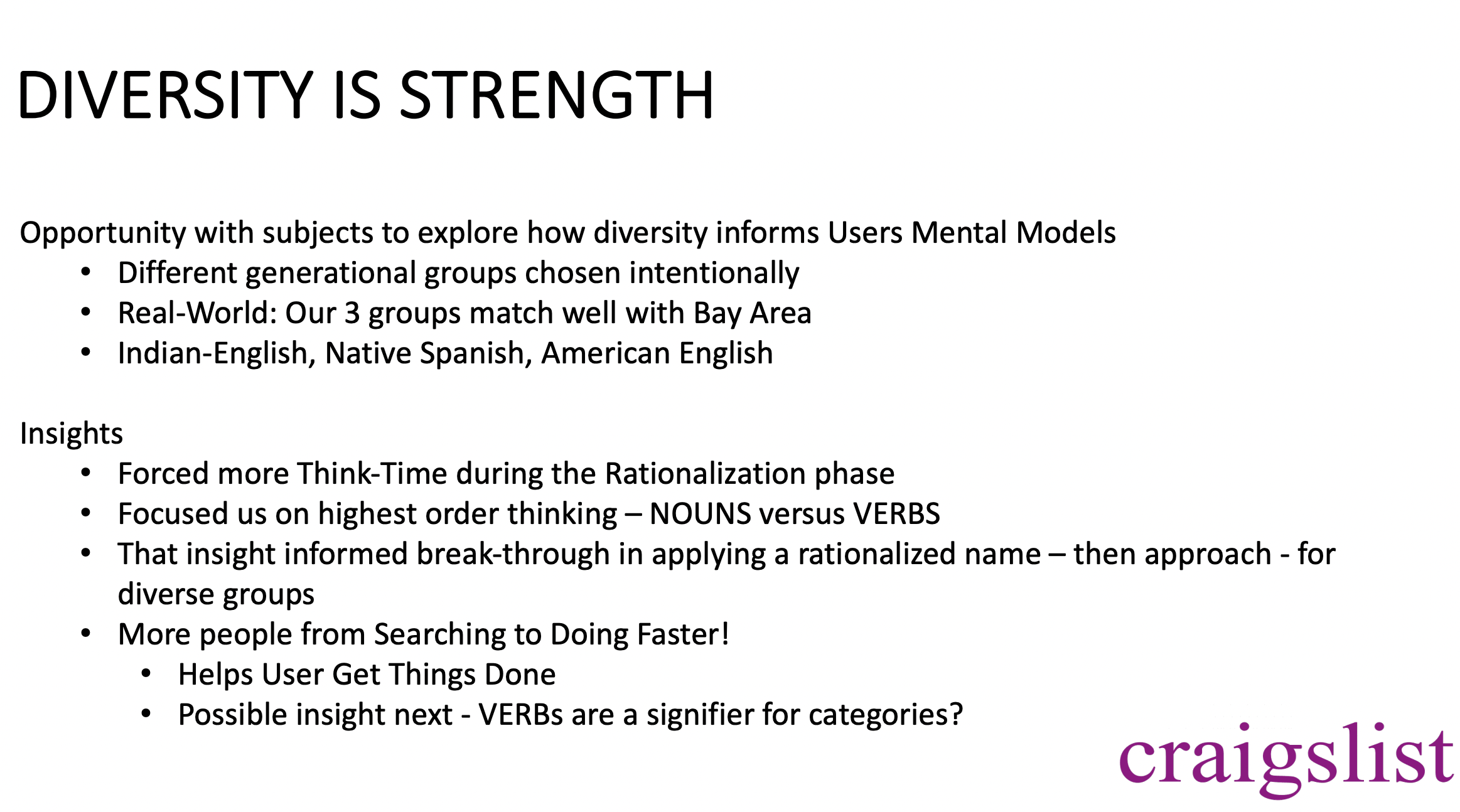 Created draft Abstract IA and Site Map
using Mental Models from Card Sort
4)Refine, Validate & Design
From Sitemap to Navigation
Steps
Considered different classification schemes and organization structures

Evaluated labels

Suggested more effective navigation ideas
Evaluated and scored 100's of labels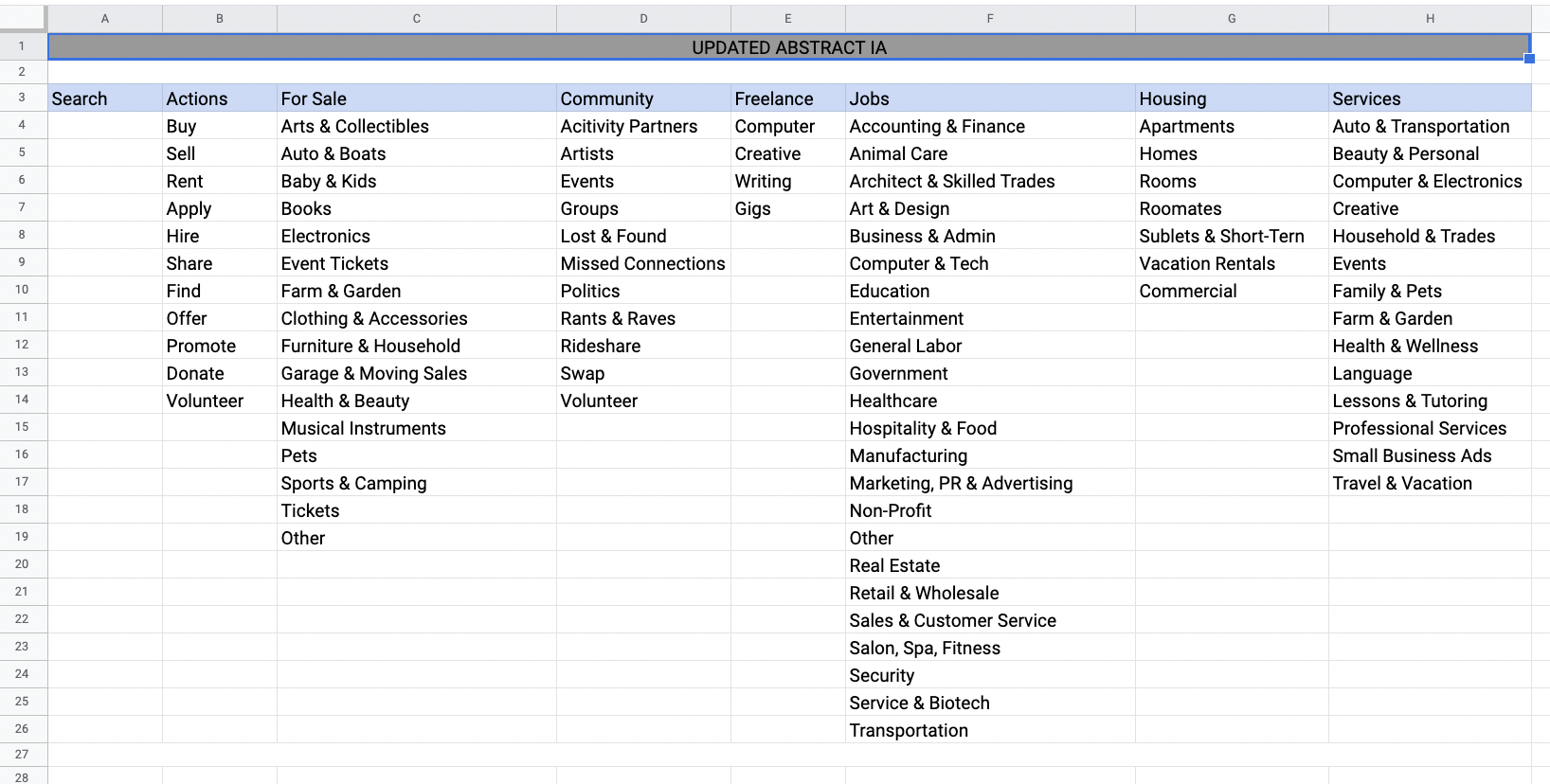 Using the new labels we updated the abstract IA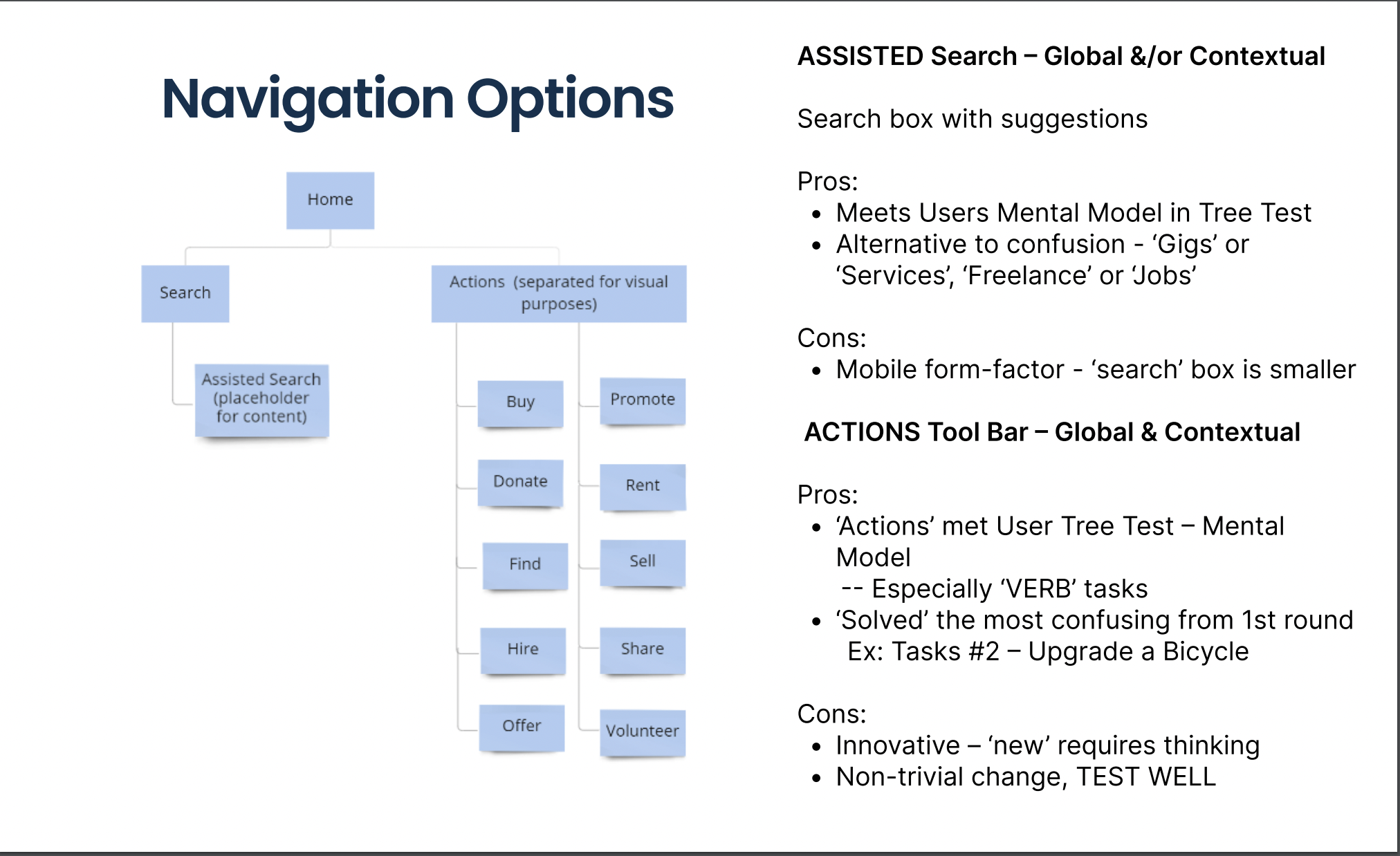 And created 2 new Navigation Options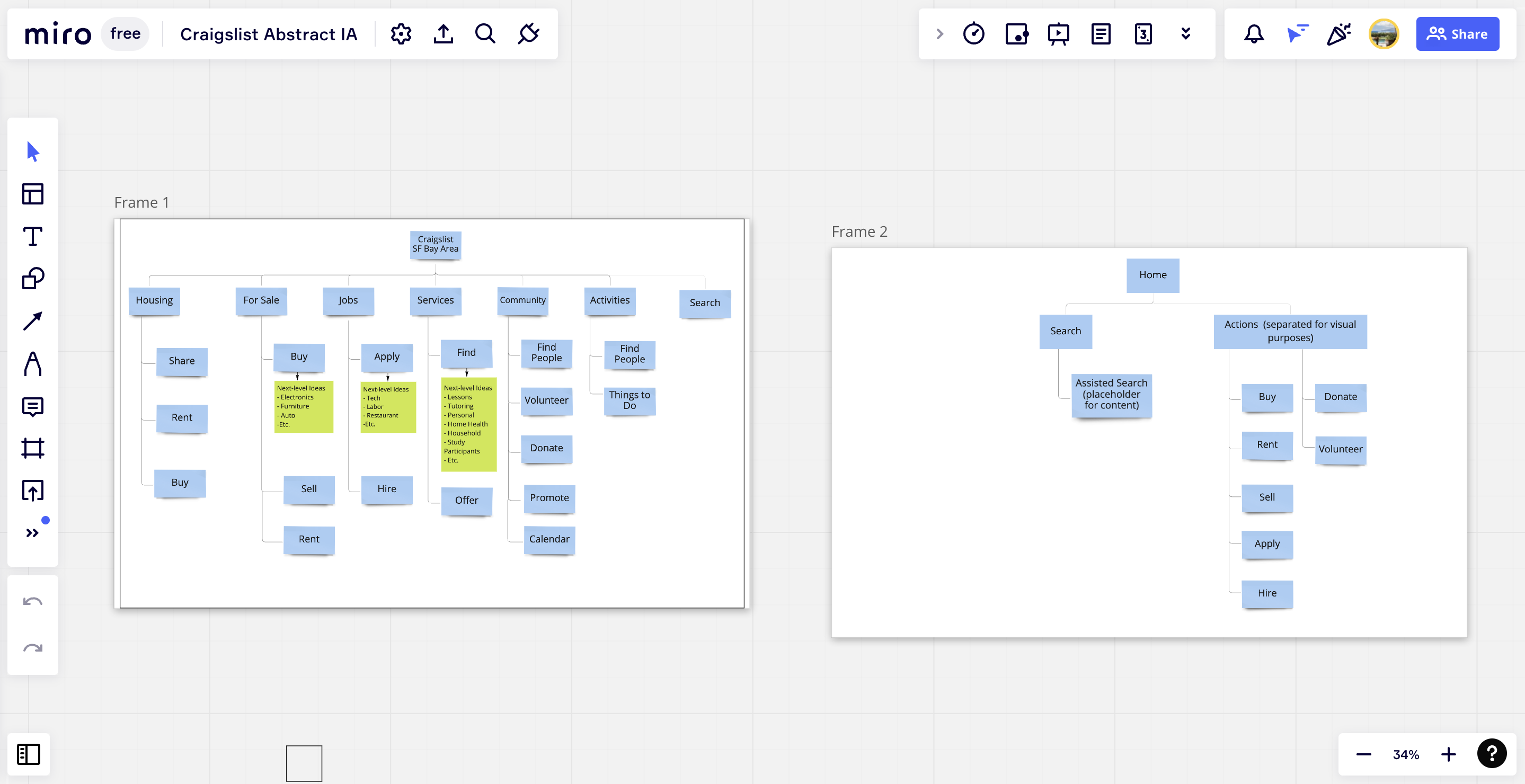 Then performed another round of tree testing with new abstract IA
Note tasks for this second round of tree testing must remain the same

Used same number and many but not all same participants (not necessary)

Compared Tree Testing results - observed how the results varied

Success - which would have been greater

IF 'Actions' had been also a 'correct' choice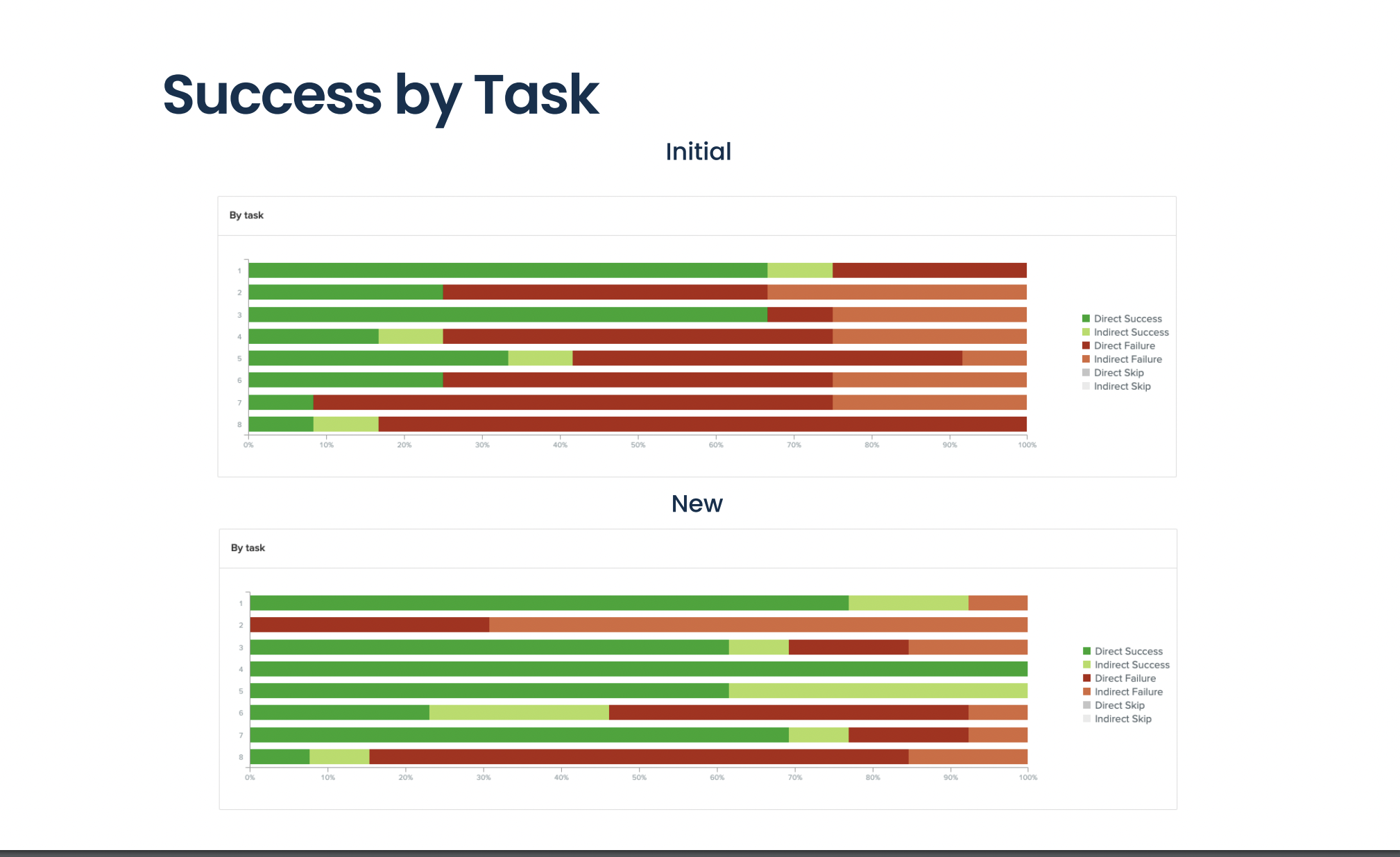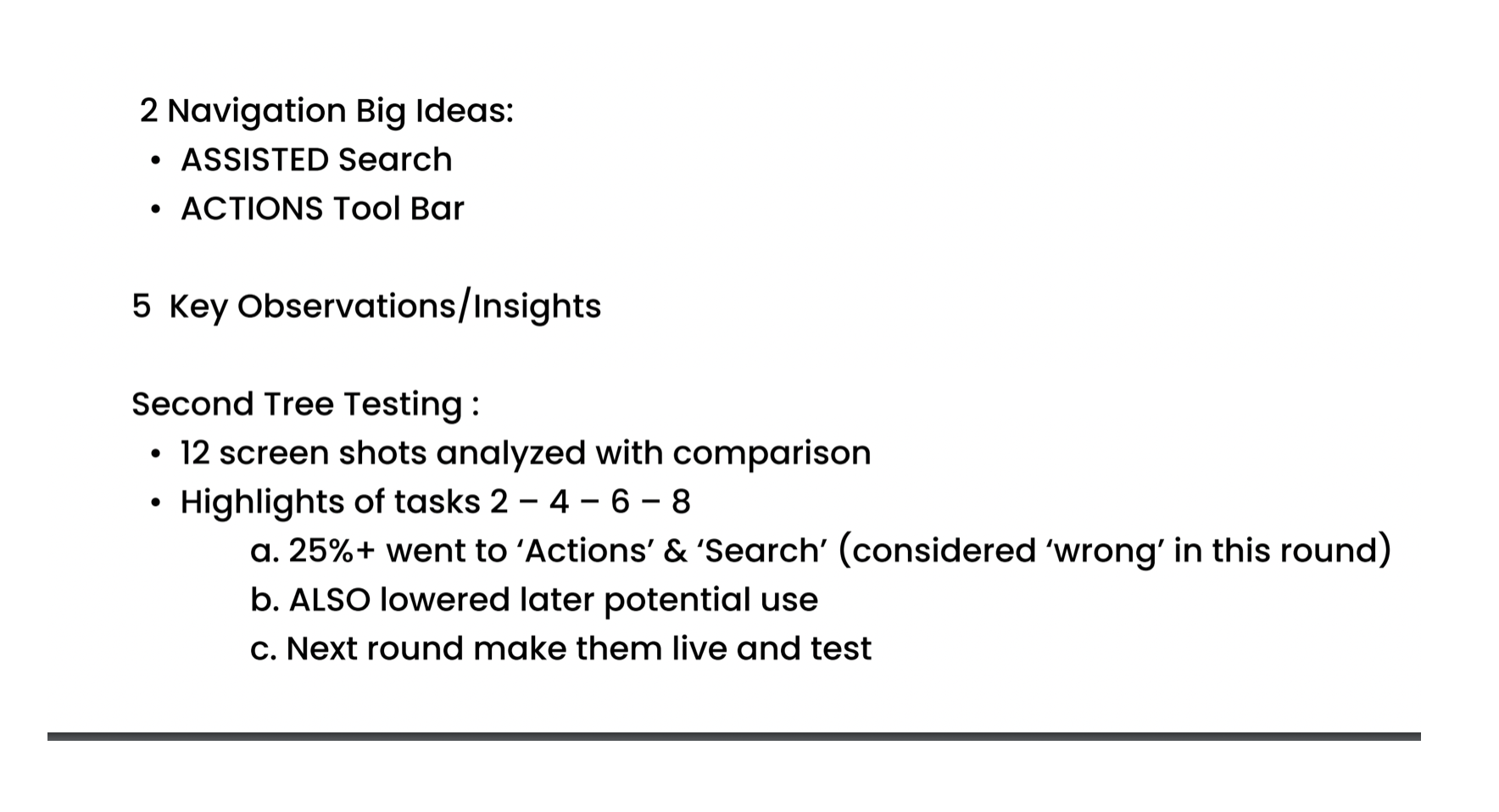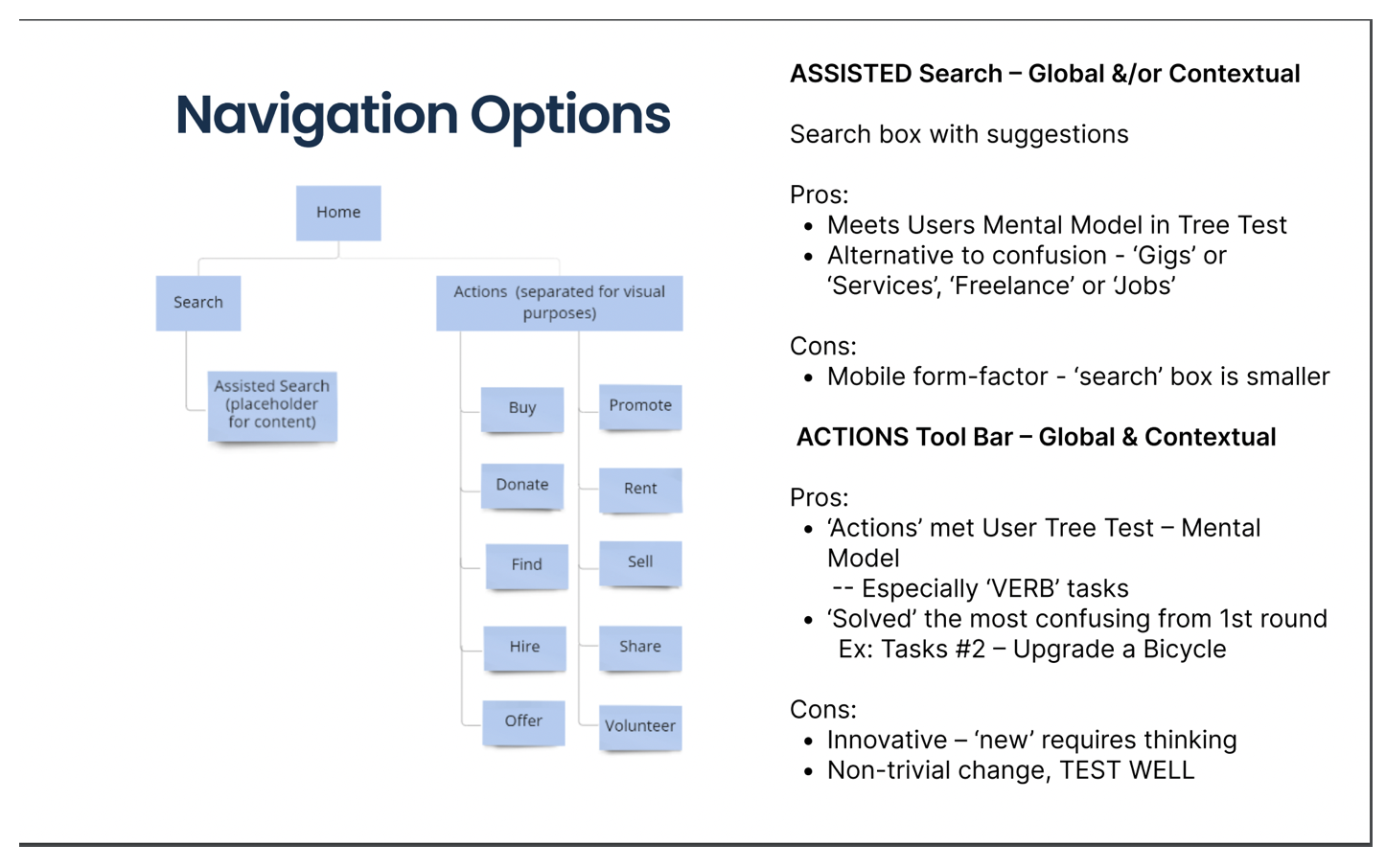 5) Design - From Navigation to Wireframes
Steps
Considered different navigation models across form factors

Selected optimal navigation options

Created low-fidelity wireframes with Balsamiq
I designed 3 clickable lo-fi wireframes using Balsamiq